Nordea named family-friendly merchant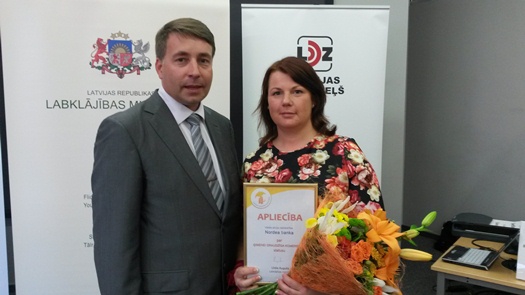 Having assessed the responsible working environment policy towards employees and their families, the Ministry of Welfare of the Republic of Latvia has awarded Nordea Bank Latvia branch with the title "Family-friendly merchant" once again for the fourth year in a row. This year, the title has been awarded to 15 other Latvian companies, and it is presented to employers that have family-friendly business policy and services in place.
Indra Rozenberga, Senior Human Resources Partner Latvia: "Employees are the reflection of a company; due to this reason, it is particularly important to see them satisfied. We provide various extra bonuses and advantages in addition to the social guarantees for employees to stay motivated. We strive to have a balance between work and recreation, therefore every year our employees and their families take part in various activities organized by the bank, holiday and sponsorship events, the children of our employees receive a special greeting upon starting school and during the Nordea Family Day the employees and their families meet to spend one afternoon together at Nordea Bank. Moreover, employees who have a family and particularly the new parents can use the option of flexible working time by adjusting their working hours to reconcile their professional and family life."
It has been three years since Nordea Bank is providing its employees with corporate bicycles for everyday needs, meanwhile Nordea Bank head office has earned the highest assessment in the competition "The Most Energy Efficient Building in Latvia 2011" as well as "The Golden Crutch Award" given to buildings providing unlimited accessibility also for the disabled.
< Back to News

Membership is an attestation that we belong to the modern Latvian business community.
Dace Silava-Tomsone, Managing Partner, COBALT