News from FICIL: New Board and Executive Director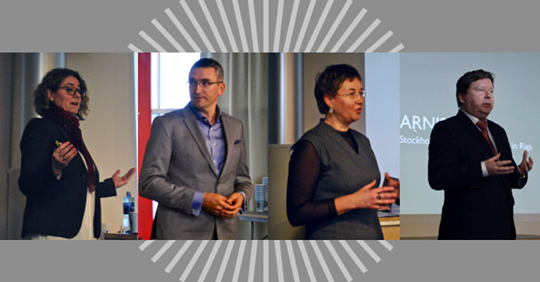 A new Executive Board of Foreign Investors' Council in Latvia (FICIL) has been elected in organization's annual general meeting which took place on March 19. Two newcomers to the FICIL board are Baiba Apine, Director of Advisory and Leader of Digital Transformation at PwC and Arnis Sauka, Professor and Director of the Centre for Sustainable Business at SSE Riga. Julia Sundberg, Country Manager in Latvia at Fortum, and Ints Krasts, Board member at SEB, were re-elected to the Board.
Four Board members will continue their work as part of the FICIL Executive Board - Māris Gruzniņš, Commercial Director in the Baltics and the Nordic countries at CEMEX, Gunta Jēkabsone, Vice President and Business Unit Head at Circle K Latvia, Ingrīda Kariņa-Bērziņa, Board member of the American Chamber of Commerce, as well as Baiba Zūzena, CEO at "All Media Latvia".
The FICIL Executive Board is elected for a two-year term and its main responsibility is to represent the interests of more than 50 corporate and associate members in Latvia. The first Executive Board meeting will be held on April 3 where the Board members will elect the Chairperson and two Vice-Chairmen, as preparations for the annual High Council meeting are actively taking place. The FICIL High Council meeting 2019 will be held on May 30 and 31.
Linda Helmane, FICIL Acting Executive Director: "This is an important year - FICIL is celebrating its 20th anniversary, while continuing the work in regards to improving the investment climate and business environment in Latvia. The focus hasn't shifted from the availability of labour and the quality of higher education in Latvia, as well as the fight against economic and financial crime in addition to the efficiency of the public sector. As tomorrow is the consequence of now, FICIL maintains its strong commitment to build on the progress achieved through an open and constructive dialogue with the government and state institutions."

In addition, FICIL introduced the New Executive Director - Mārtiņš Panke who will take on the role as of April 1. He has previously worked as the Spokesperson for a Prime Minister of Latvia and the Head of External Communication at SEB bank.
Mārtiņš Panke: "I am glad for this opportunity to become a part of FICIL's team. During 20 years since its establishment, FICIL has become one of the most important partners for the government in terms of shaping economic policies. It is an organization, which is highly respected and whose opinion is sought after. Therefore joining FICIL is a challenge for me. I will use my experience in the public sector and private sector to contribute towards reaching FICIL's goals - a transparent, competitive and business-friendly economic environment in Latvia."
< Back to News
I look forward to promoting stronger U.S.-Latvia ties and working with AmCham members to ensure Latvia is a trusted destination for international business.
John Tully, Chairman of the Board of MikroTik