Financial issues, adapting to new ways of working, uncertainty - key challenges named by investors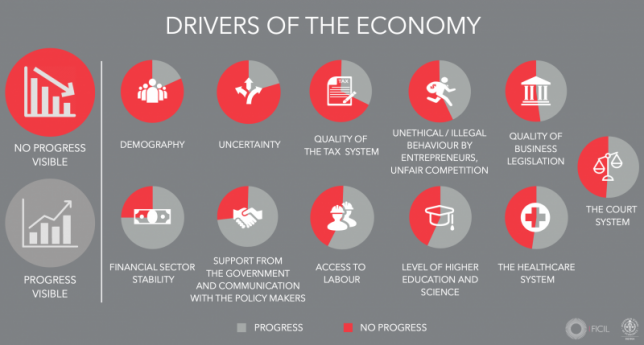 In 2020, FICIL together with Dr. Arnis Sauka from SSE Riga carried out its sixth consecutive Sentiment Index research. In addition to the usual topics, the research also provides the investors' viewpoint on the challenges caused by the Covid-19 pandemic and the best course of action for economic recovery. Executives from 44 companies participated in the interviews, representing the key foreign investors in Latvia. These companies constitute 16% of Latvia's tax revenue, 13% of total profit and employ 10% of the total workforce out of all companies that have a turnover above EUR 145 000 and at least 50% foreign capital (Lursoft, 2019).
The results of the survey show that the three key challenges of the foreign investors during 2020 were:
Financial issues, e.g. decrease of business volumes;
Adapting to new ways of working (mostly to remote working), changing business models and adapting to the changing market environment;
Dealing with the uncertainty (including in the tax system) and planning the business ahead.
Several other challenges were mentioned by the foreign investors, including issues related to logistics, global supply chains, travel restrictions; ensuring the safety of staff and customers; communication with the policy-makers and/or policy action; financial sector (banking); shortage of employees, especially highly educated and skilled experts; fair competition and the shadow economy. For each of the identified challenges, investors also offered potential solutions that are all summarised in the report.
About the FICIL Sentiment Index
FICIL Sentiment Index is an annual report which follows development of the investment climate in Latvia from the perspective of foreign investors, identifying the most significant challenges in the business environment. It is a qualitative study, based on in-depth interviews with investors, carried out by FICIL in cooperation with SSE Riga.
FICIL aims to create evidence-based policy through realistic and forward-looking recommendations. The goal is to improve the overall business environment and investment climate in Latvia. The FICIL Sentiment Index addresses topical issues, such as demographic decline, digitalization, economic competitiveness, quality of the higher education system, rule of law, as well aseconomic and financial crime issues.
< Back to News

AmCham is a place to meet representatives of other industries and understand the business environment.
Signe Velina, Market Access Manager Latvia of Johnson & Johnson