Do more, feel better, live longer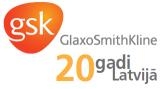 GlaxoSmithKline (GSK) Latvia has issued its first local Corporate Responsibility Report covering the role that they play in Latvian society, their business activities in the country, and their impact on people, the environment and the community. The report includes their approach to Corporate Responsibility and the actions they have taken during 2012 to advance responsible and community- oriented practices in their business.
Dins Smits, General Manager of GSK said: "We have always strived to deliver long-term value to local community in many ways, i.e., by being a role model for ethical business behavior, responsible employment and reliable stakeholder relationships. Our inclusion as the first pharmaceutical company in Latvia in the State Revenue Service's White List is a testimony to our ethical record and influence in raising the ethical benchmark of the pharmaceutical industry in this country. In addition, we received certification from the Latvian government as a Family Friendly Company and are the only international innovative pharmaceutical company ranked on the Latvian Reputation Index." Click here to view the entire report.
< Back to News

AmCham is based on values and behaviors that enable its members to fulfill a common purpose - a sustainable and transparent business environment, and we are truly proud to be a part of this growing community.
Edgars Skvariks, Corporate Public Affairs Manager at Bayer