Help kids from SOS Children Villages prepare for school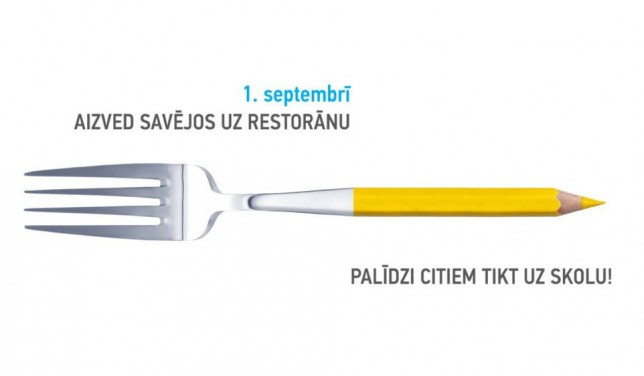 SOS Children's Villages together with leading Latvian chefs are inviting families to have a lunch/dinner on September 1st at cafes and restaurants to engage in the charity campaign "Take your beloved ones to a restaurant and help others to get to the school". This will be the 8th campaign in a row and many AmCham members are taking part in it!

The restaurants that are participating in the campaign will support the children of the SOS Children's Villages to help them get ready for the school. Participation in the campaign has already been confirmed by cafes and restaurants in Riga and many other cities:
This charity campaign is a way to accomplish two good deeds at a time - to spend time with your family and to support the children of SOS Childrens' Villages with a delicious meal.
We recommend making reservations in advance as tables are generally limited at each café and restaurant location.

If you are unable to participate in this event, there is always an opportunity to help children living in SOS Childrens' Villages in Latvia by making a donation.
Donation details:
Latvijas SOS Bērnu ciematu asociācija
Zemitāna laukums 5, Rīga, LV-1006, Latvija
Reg. No. 40008029381
Accounts:
- SEB bank LV56UNLA0050011994184
- Swedbank LV65HABA0551033254521
- Luminor bank LV03RIKO0000083612402
- Citadele LV66PARX0019585450001

We would be thrilled if you chose to become a regular supporter of SOS Children's Village. When applying just agree to regular or automatic payment with your bank. Any amount you choose to donate regularly will mean so much to the children, allowing us to provide them with a safe and comforting environment!
If you would like to know about other ways to help SOS Children's Villages in Latvia, you are welcome to contact Dace Straume via email dace.straume@sosbca.lv or calling +371 25672677.
< Back to News

AmCham and PwC share the same values and targets to achieve socially.
Zlata Elksnina-Zascirinska, Country Managing Partner at PricewaterhouseCoopers