Improving trade relations and business sentiment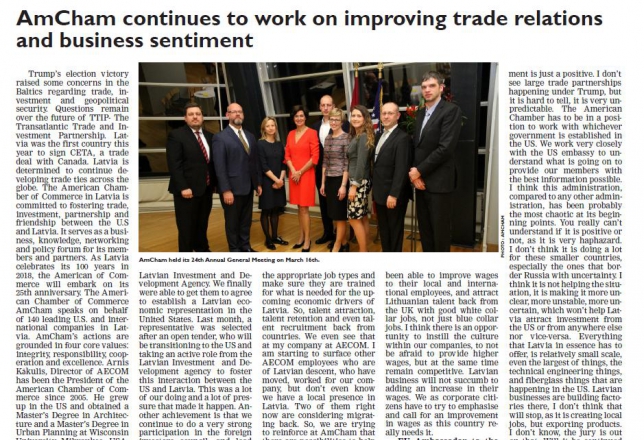 Our President Arnis Kākulis gave an interview in the newspaper The Baltic Times about AmCham's latest achievements and plans for the future.
According to Mr. Kākulis, one of AmCham`s golden highlights was that the Chamber established officially the gateway to the USA program, the Latvian Government didn't at that point have a US economic representation in the States, and as such, the AmCham felt it was very important to continue to foster this relationship of trade between Latvia and the United States in both directions.
The second achievement is, that based on this pressure, AmCham established with the Latvian Government, the Ministry of Economics, Ministry of Foreign Affairs and with the Latvian Investment and Development Agency. We finally were able to get them to agree to establish a Latvian economic representation in the United States.
Another achievement is that AmCham continues to do a very strong participation in the Foreign Investors' Council in Latvia (FICIL), and lead most of the working groups. Our members are the heads of most of them. We continue to work on the tough issues, such as the grey economy, corruption, the legal framework of Latvia and potential reforms, so we are proud of that.
To read the entire article click here.
< Back to News

AmCham is a place to meet representatives of other industries and understand the business environment.
Signe Velina, Market Access Manager Latvia of Johnson & Johnson