Join Virtual Running Club and support Care Mobile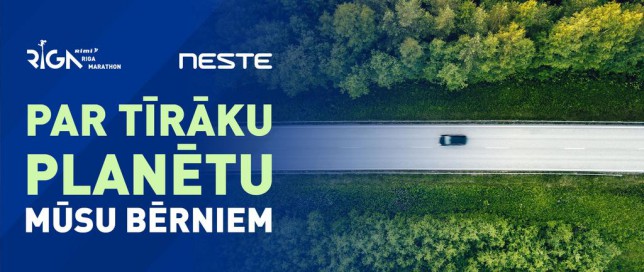 The Rimi Riga Marathon Virtual Running Club and Neste Latvija invite to join the campaign and challenge "Creating a healthier planet for our children" from May 1, 00:01 AM till May 31, 11:59 PM. The aim of this campaign is to accumulate as many kilometers as possible with any activity that counts the kilometers. It can be running, walking, hiking, rollerblading, cycling, skateboarding and others. Each kilometer will increase the physical and emotional well-being of participants, and of course, improve health.
For each registered participant that joins the "Creating a healthier planet for our children" challenge, Neste will add a liter of 100% renewable Diesel Neste MY which reduces CO2 emissions up to 90% to the Care Mobile. By joining this challenge you will give the opportunity to Ronald McDonald House Charities Latvia (Care Mobile) a chance to drive in an environmentally healthy way and offer medical consultations for more than 1000 Latvian children.
For example, 1500 participants = 1500 liters = 6000 km or in other words, the amount of km that the Care Mobile completes in 2 months by providing medical advice for around 1000 children.
Neste supports the Care Mobile and provides the fuel already for 9 years, thus providing medical care to children throughout Latvia, especially in rural areas.
With this challenge, everyone will gain double – being active will strengthen health and well-being, and as a participant of Neste challenge will support noble goal. We can make small but significant changes in our daily lives and help our children to live on a healthier planet.
Join the challenge HERE!
< Back to News

AmCham reflects our values and enables us to meet similarly-minded people.
Daiga Auzina-Melalksne, Chair of NASDAQ Riga