Demography, labor force and education - key concerns for investors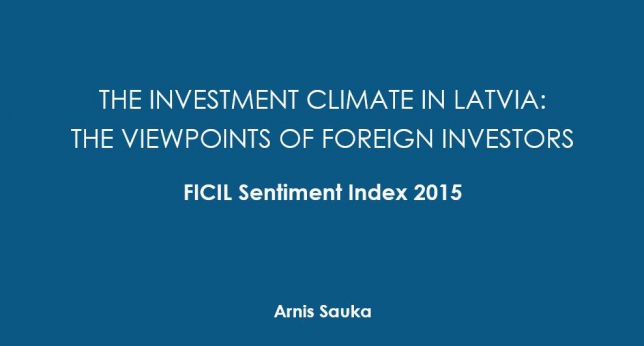 During its High Council meeting with the Latvian government, Foreign Investors' Council in Latvia (FICIL) launched its report about the competitiveness of Latvia entitled "FICIL Sentiment Index".
Respondents' comments were collected and analyzed and have been published anonymously with a reference to the respective industry. To view the full report click here.
Key areas of concern identified with respect to long-term sustainable development of the investment climate in Latvia's market:
Demography and access to labor;
Education, science and value added;
Legislation and government support;
Unethical/illegal behavior and unfair competition;
Uncertainty;
The court system;
The healthcare system;
Cooperation/networking/short-term thinking;
Economic growth and welfare;
Infrastructure;
Social inequality;
Public procurement;
Ecology.
"Education is one of the key aspects in developing strong economic fundaments, but this needs to be a political choice. It is important for Latvia to educate people and to develop new industries that will produce high value added. The labor cost advantage that is here today will not be there in the longer term and this is why education should be a focus."(Real estate company).
According to investors, areas where Latvia has been successful in its economic development are the following:
Favorable overall political and economic environment;
Logistics and infrastructure;
Financial infrastructure and market regulation;
Shared service centers;
Labor efficiency.
"Overall, we experienced a complicated but a very supportive local environment on both a political and a business level. We did not expect that Latvia's integration westwards would happen so fast, that it would be a member of the EU, NATO and the Eurozone in such a short time." (Real estate company).

Investors named these reasons asked why they have decided to invest in Latvia:
Latvia as a part of the EU;
Opportunity for investment in an emerging market;
Quality of the workforce and favorable business environment;
Belief in the continuous growth of Latvia;
Good strategic location.
"We established our representation in Latvia before Latvia joined the EU, and the country's accession to the EU, NATO and the Eurozone just confirmed that our choice was correct." (Wholesale and retail company)
Investors think that among major gaps between expectations and reality are:

Demographic change and emigration;
Structural reforms in education, healthcare and the legal system;
Industry specific issues.
"Our business is internal-market-oriented thus our big concerns in Latvia are: demography, emigration, ageing of the population." (Technology and communications company).

Ģirts Greiškalns, Executive Director of FICIL said: "By conducting the survey of existing investors in Latvia we get valuable insights on the investment climate in Latvia. Companies that have made the decision to invest in Latvia share with us their analysis of investment climate Latvia, their plans for future investments and their key concerns. This, I hope, will serve as a good tool for improving the overall investment climate in Latvia. We want to see existing investors investing more and certainly many more investors coming to Latvia."

We would like to thank to our members who contributed to this report by taking part in the interviews earlier this year measuring current investors' opinions about Latvia's business and investment climate.
< Back to News

AmCham is an invaluable resource that keeps us up to date with business issues and opportunities.
Mantautas Paskevicius, Country Manager of Strategic Staffing Solutions International