KPMG supports children and animals in need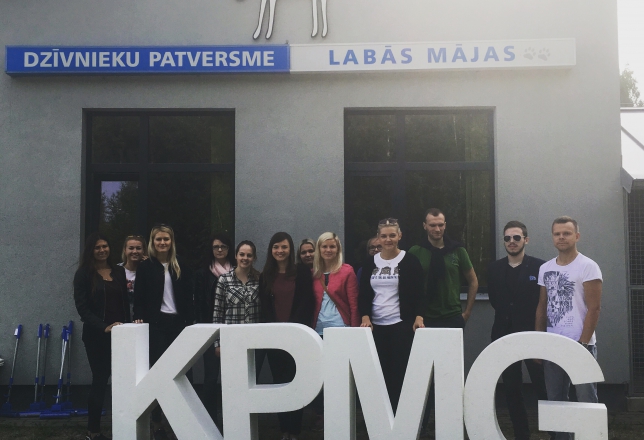 KPMG in Latvia focuses its corporate social efforts in four main areas: help to disadvantaged children, support to youth education, improve the environment and care for abandoned animals. During the annual Staff Day this summer, the employees participated in an internal CSR auction (KPMG employees offered different activities like photo shooting, wine testing, musical performance, guided hiking, home-made snacks, etc.) and collected money to donate for Rauda Boarding School (http://raudaspsk.edu.lv/) and to an animal shelter. So, on 18 August a team of KPMG visited animal shelter Labās Mājas. KPMG employees had a chance to see the shelter and walk the dogs that are currently located there. From the donated money KPMG employees provided the shelter with dog food, vaccines against flea and worms as well as equipment for germproof.
During the visit, employees found out about the significant and notable work that the shelter employees do on everyday bases. In addition, every year the shelter organizes orientation racing event where the participants can take part with the shelter dogs or individually and the participation fee of 10 EUR per participant is donated to the shelter needs. Also, to increase the popularity of Jugla's animal shelter, birthday celebrations for kids can be organized in the shelter territory.
Animal shelter in Jugla was established in 1999. In twelve years' time the shelter has demonstrated its high expediency to the society and in 2011 it moved to a newly established building Labās Mājas on 12 Mežapurva street, Riga. Currently the shelter provides home to approximately fifty dogs and seventy cats. More information about the shelter can be found here: http://patversme.lv/
In addition, KPMG in Latvia supports activities organized by palidzesim.lv, e.g. KPMG in Latvia financially supported a summer youth camp. Also, KPMG in Latvia annually participates in project "Skola sauc" where the staff annually participate and the sum donated by them is doubled by the KPMG firm - more information on the campaign: http://palidzesim.lv/zinas/ir-sakusies-ikgadeja-palidzesim-lv-rikota-labdaribas-akcija-skola-sauc-2017
< Back to News

AmCham is based on values and behaviors that enable its members to fulfill a common purpose - a sustainable and transparent business environment, and we are truly proud to be a part of this growing community.
Edgars Skvariks, Corporate Public Affairs Manager at Bayer