Latvia's state of emergency comes to an end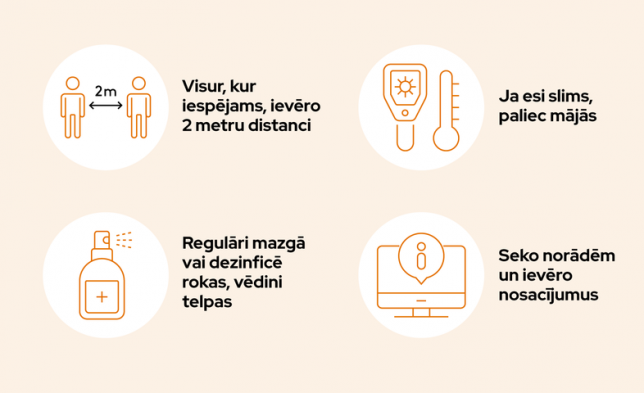 The state of emergency declared in Latvia on March 13 as a result of the global COVID-19 pandemic came to an end at midnight June 9. From June 10 Latvia will no longer be in a state of emergency. However, according to the new regulations of the Cabinet of Ministers, certain restrictions must be observed even after the end of the state of emergency.
The new regulations of the Cabinet of Ministers, explained by the Ministry of Health. From June 10:
It will still be compulsory to wear a face covering on all public transport. This does not need to be a medical grade mask - it could be a scarf or other form of covering that covers both mouth and nose.
Larger social gatherings will be permitted. Up to 100 people can gather indoors, but up to 300 people outdoors, provided they keep a distance of two meters apart. These conditions apply to venues for the provision of services and public events. This means that a private event in a private area, such as your own home or garden, does not have such conditions. However, in such cases it is up to you to take responsibility for private actions and keeping in line with precautionary measures is advised.
If the epidemiological situation allows, it is planned that from July, up to 500 people will be able to gather indoors in venues with a surface area of ​​more than 1000 m2 . Up to 1,000 people will be able gather at events outside. It is also planned that from August, up to 250 people could gather indoors at venues with with an area of ​​up to 1,000 m 2. It should be stressed that these are targets and whether they happen will depend upon the situation at the time.
Restaurants and cafes can open provided a distance of 2 meters is ensured between the tables. Until July 1, it has been determined that 4 people can sit at a table indoors, but 8 people can sit outside, for example, on a terrace. Not less than 4 m 2 of the publicly accessible premises per visitor shall be provided in commercial and public catering establishments. Caterers must also make it possible for customers to have take away meals and table disinfection must happen after every meal.
As before, cultural, sports, entertainment and religious activities can start work no earlier than 06.30 and must close no later than 24.00. An exception is made for open-air cinemas and public catering establishments, which can remain open until 02.00.
Children's camps can have up to 30 children, while adults in non-formal education activities will be able to have up to 50 people in one group.
There are special conditions for sports training - no more than 30 people, including coaches, can be in one training group. Until 31 July, indoor sporting events with a total public space of less than 1,000 m2 must take place without spectators.
Any trips by Latvian residents to European Economic Area countries listed as posing a high risk to public health (at the time of writing this includes the United Kingdom, Ireland, Sweden, Portugal and Belgium) must be followed by compulsory 14-day self-quarantine upon return to Latvia.
Though travel to third countries outside the EEA such as the United States, China, India etc. is not currently possible, any such trips must be followed by compulsory 14-day self-quarantine upon return to Latvia.
Tourist trips (both private and operator-organized) can now be freely organized to countries with low COVID-19 prevalence, while respecting all safety requirements.
When visiting museums, people are invited to book a visit in advance or buy a ticket online, observe a distance of 2 meters from other visitors and use the hand hygiene facilities offered by the museum. The maximum number of visitors, as well as their flow through the museum is organized by each museum individually.
< Back to News

Today is the key moment to demonstrate the values we share with AmCham and support like-minded businesses
Jekaterina Novicka, Partner of Business Development, Orients Audit & Finance