Luminor Investor now available in Baltics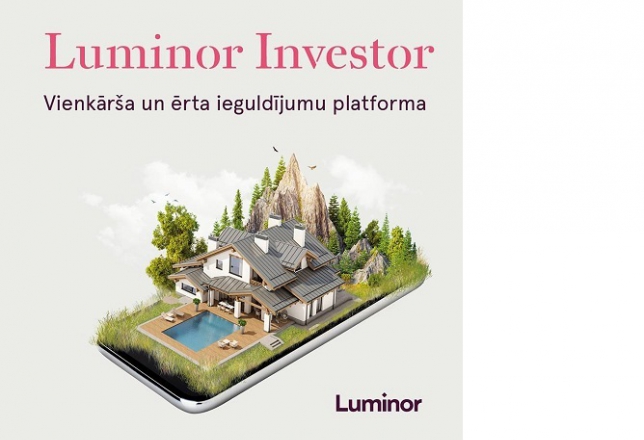 In cooperation with Scandinavian partners, Luminor bank is bringing the first investment platform in the Baltics aimed at making investment accessible to common households. With Luminor Investor you can invest in more than 13 000 instruments including stocks, bonds, exchange traded funds (ETFs) and mutual funds. Do it anywhere, anytime on any device.
"Investment penetration by households in the Baltics is five times lower than the EU average. This is partially due to complexity of investment process, institutional focus on the affluent and large investment minimums", - says Mindaugas Tutlys, head of Savings and Markets Products at Luminor.
Luminor is focusing on customers who want to invest but unsure how to start. Luminor Investor platform provides for a simplified customer experience, thus enabling even inexperienced customers and households to begin investing (starting at 100 EUR) and build their savings at their own pace.
At their fingertips are more than 12 000 stocks, 800 ETF, 400 investment funds and 120 bonds, all carefully selected to exclude complex instruments.
A huge effort has been put into making fees clearly visible, understandable and comparable. "We believe investors are entitled to a clear presentation of what they are asked to pay for", - says Mr. Tutlys.
Advanced investors will appreciate comprehensive access to company financials, news and historical performance data. The amount of data is unprecedented in the Baltic market and is provided free of charge.
"I am absolutely excited to bring the most powerful investor platform in the Baltics and look forward to helping families contribute to their financial security." - says Mr. Tutlys.
To start using the platform, open investment account at
luminor.lv/investor
.
< Back to News
Being part of AmCham is a great way to maintain business contacts with entrepreneurs and professionals.
Normunds Bergs, Chief Executive Officer, SAF Tehnika