Make a donation to Easter baskets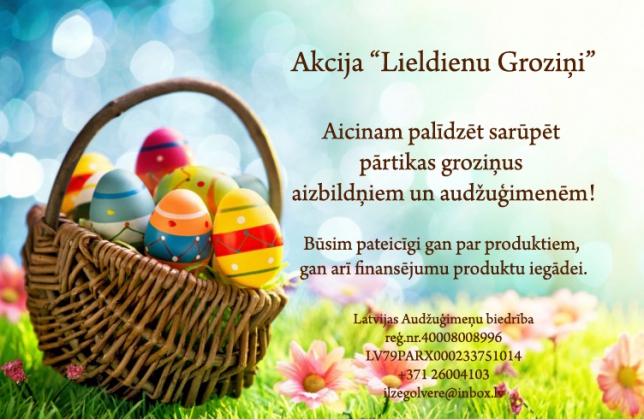 The Latvian Foster Family Association
kindly asks you to support its annual campaign "Easter baskets" to help orphaned and abandoned children. The Association will be grateful for either food/in-kind donations or financial support.
The Latvian Foster Family Association (Latvijas Audžuģimeņu biedrība) is a non-governmental organization, founded in 1994 with the objective of promoting raising orphans or children left without parental care in a family environment. The Association is comprised of 200 families with 356 children from different regions of Latvia.
For more information, please contact Ilze Golvere, Managing Director: Mob. +371 26004103, ilzegolvere@inbox.lv.
Donation details are available below:
Latvian Foster Family Association
Registration Nr.: 40008008996
Bank: A/S Citadele bank
SWIFT code: PARXLV22
IBAN LV79PARX0000233751014
< Back to News

AmCham works hard to accomplish its goals and is a voice in the business community that is heard.
Filips Klavins, Managing Partner at Ellex Klavins