McHappy Day raises over €44 000 for Care Mobile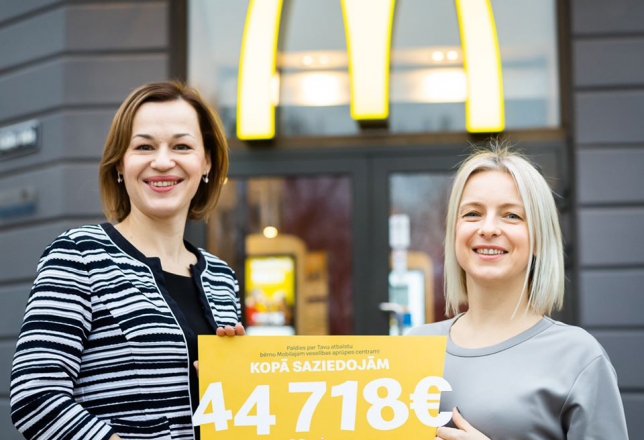 The most successful McDonald's charity campaign "McHappy Day" has ended and the results are amazing - 44 718 euros has been collected to support the 
RMHC Latvia's Care Mobile
 program. 44 718 EUR donation is a significant contribution to the Care Mobile budget and will help to provide more than 4800 free medical consultations to children all around Latvia.
Thanks to generous support and donations from the Care Mobile in collaboration with specialists from Children's Clinical University Hospital the program will continue to visit children, especially in rural areas, where they lack access of primary medical care due to various reasons also next year. The main mission of Care Mobile is to get doctors near children's homes to provide free medical consultations and improve health of children. In the most cases the services provided by the Care Mobile are very significant to discover various diseases in initial stage and to prevent more serious illnesses in the future. The team of Care Mobile consists of: allergists, ophthalmologists, neurologists, speech therapists, dermatologist, gastroenterologist, physiotherapist and endocrinologist.
"In our every day's work we see how much children in need would like to get medical consultations form specialists of Children's Clinical University Hospital. In the most places where we go children lack the possibility to get primary medical care. We receive feedback from parents that it is difficult to travel to Riga to visit doctors with small children and they appreciate an advantage to have doctors near their homes a lot" - admits Executive Director of RMHC Latvija, Zane Gedrovica.
RMHC Latvija is grateful to the McDonald's team and society for the great support and donations, and believes that together we can do great things and help those who need it the most.
To find out more about RMHC Latvija and its projects contact Executive Director Zane Gedrovica mob: +371 2644-8018; zane.gedrovica@rmhc-latvia.lv
< Back to News

AmCham and PwC share the same values and targets to achieve socially.
Zlata Elksnina-Zascirinska, Country Managing Partner at PricewaterhouseCoopers