More light on TTIP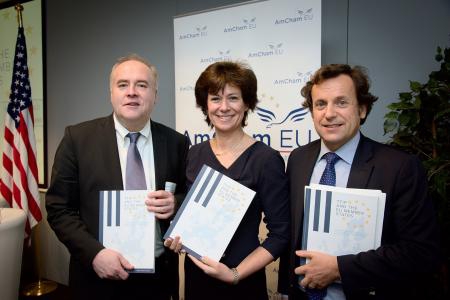 The recently published study "TTIP and the EU Member States" explores impact of a future TTIP agreement on the EU's 28 Member States, and also outlines the overall impact of TTIP for the EU and makes policy recommendations.

The study was executed by the World Trade Institute (WTI) of the University of Bern and commissioned by the American Chamber of Commerce to the European Union (AmChamEU). It incorporates a large amount of insightful statistics, charts and maps. The study's aim is to contribute to a positive TTIP debate by helping both policymakers and stakeholders to develop an informed opinion.

According to the study the benefits of TTIP for Latvia would be additional income, higher wages for both low and high-skilled workers, more investments, and lower prices. GDP is expected to increase permanently by 0.4 percent, exports to the US are expected to increase by 15% and consumer prices will go down by 0.2 percent.
For Latvia, by reducing tariff and non-tariff measures in TTIP, without lowering standards:
Mainly the manufactures sector, but also the machinery, water and air transport sectors are expected to grow most, but motor vehicle production may decline;
TTIP could facilitate a significant increase in production of manufactures by firms in Latvia (+1.3 percent). Exports are poised to increase most in the processed foods sector (+€35 m);
For Latvians, the prices would be lower for motor vehicles (-2.2 percent) and transport equipment (-0.5 percent).
The study not only explores the economic relationship between individual EU Member States and the US, but also outlines the potential effects of TTIP on the economies of each EU Member State.
The agreement is expected to be especially helpful for small and medium sized enterprises (SMEs) in the EU, making it easier for them to export to the US and helping them to compete in the transatlantic market. The study, entitled, "TTIP and the EU Member States," also argues that TTIP could promote a 'race to the top' on labour, environmental, and health and safety standards on both sides of the Atlantic.
"Our findings show that TTIP could improve the trading environment for businesses of all sizes, establish robust provisions in areas such as labour and the environment, and deliver many benefits for consumers," stated Prof. Joe Francois, lead author and Managing Director at WTI. "The challenge is for Member States and the EU to pursue the necessary actions to take advantage of the opportunities offered."
Susan Danger, Managing Director of the American Chamber of Commerce to the European Union (AmCham EU), added, "The aim of this study is to provide a positive contribution to the ongoing debate on TTIP in Europe, helping EU policymakers to construct an ambitious and balanced agreement that meets the needs of EU citizens and businesses."
The full report can be read online here.
< Back to News

AmCham reflects our values and enables us to meet similarly-minded people.
Daiga Auzina-Melalksne, Chair of NASDAQ Riga