FICIL announces new Board for 2022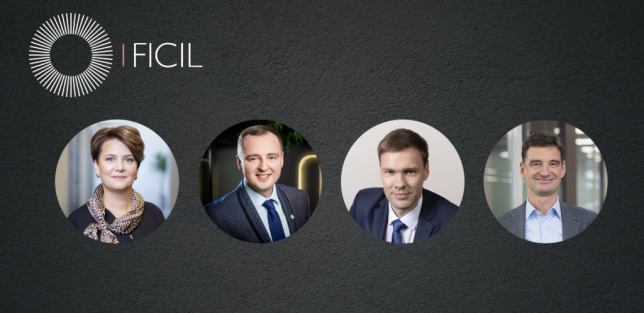 On 17 February, Foreign Investors' Council in Latvia (FICIL) held its Annual General meeting where the new Executive Board was elected. There is one newcomer to the FICIL Board in 2022 – Reinhold Schneider, Chairman of the Board Schwenk Latvija, Zlata Elksniņa-Zaščirinska, Country Managing Partner PwC Latvija, Valts Kārkliņš, Large Business Customer Director at BITE Latvia, and Alvis Ērglis, Director of Sales at Circle K Latvia.
Four Board members will continue their work as part of the FICIL Executive Board – Evija Šturca, Partner at KPMG Latvia, Ints Krasts, Board member at SEB Latvia, Iain Kennedy, CEO of BALTA Insurance Company, and Arnis Sauka, Professor and Director of the Centre for Sustainable Business at SSE Riga.
The FICIL Executive Board is elected for a two-year term and its main responsibility is to develop and strategically guide the work of FICIL. The first Executive Board meeting will be held on 2 March where the Board members will elect the Chairperson and two Vice-Chairpersons and start the preparations for the annual High Council meeting. The 26th FICIL High Council will be held in September.
Linda Helmane, FICIL Executive Director: "We have many challenges ahead in 2022 and onward. The newly elected FICIL Board will hold a brainstorming meeting at the end of March to review and update FICIL strategy, vision and mission. Investors are focused on various questions that need clear answers in the near future – how will the EU Green Deal be implemented in Latvia? How will shadow economy levels be reduced? Who will be responsible for an effective cross-sector cooperation among ministries? This year we will also see the Parliament election take place in October. During Sentiment Index: Election edition research phase, we conducted interviews with more than 50 foreign investors in Latvia to determine what progress has been achieved over the last 4 years and what priorities the next Government should focus on. We have a busy season ahead of us, constructive dialogue with public sector officials and policy makers is vital when it comes to improving the investment climate in Latvia overall."
< Back to News

We are very pleased to be part of AmCham and are looking forward to driving innovation forward in Latvia.
Mikko Fernström, General Manager, Biogen Latvia