Delna launches report on anti money laundering in Latvia and the Baltics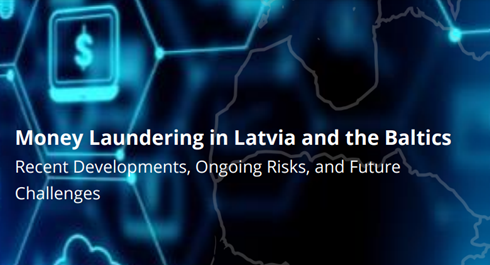 Transparency International Latvia (DELNA) has published a new report which provides a bird-eye view of the main features of the complex money laundering schemes carried out through Latvian and other Baltic banks, while assessing governments' efforts to prevent the occurrence of similar schemes in the future and evaluating the ongoing risks linked to the abuse of shell companies, the exploitation of corporate services, and the emergence of the e-money and digital payment industry.
Based on the findings of this report, DELNA recommend the Latvian government to fully support current EU efforts to establish a supranational supervision and reporting mechanism for cross-border transactions, and work in concert with the FIU, the FCMC, the SRS, the Enterprise Register, and members of the Financial Sector Development Board to implement the following measures:
Ensure the regular publication accurate statistics about banks' relationships with TCSPs and EMIs/PIs, including at least: i) number of TCSPs with whom they have a cooperation agreement and number of EMIs/PIs to whom they provide correspondent banking accounts; ii) jurisdictions in which those TCSPs and EMIs/PIs are based and operate; iii) information about the different types of cooperation agreements and correspondent banking services.
Take steps to further strengthen the monitoring and transparency of the provision of corporate services in in Latvia, by: i) developing licensing requirements for TCSPs, regardless of the specific business category to which they belong; ii) setting up a public register of all TCSPs under the supervision of the SRS; iii) publishing a list of disqualified TCSP owners' and directors.
Engage with competent authorities in Estonia and Lithuania to ensure interoperability among corporate registries in the three countries and harness their AML intelligence value, by: i) adopting common open data standards; ii) developing common tools and indicators to detect suspicious TCSP activities (e.g., bulk-formation of companies; iii) developing technical solutions that allow for cross-border verification of accuracy of basic beneficial ownership information (e.g., verifying whether information provided by a Latvian national setting up a company in Estonia corresponds to information held by Latvian authorities about that person).
Seek to upscale financial intelligence cooperation and information sharing related to EMIs/PIs, across the three Baltic States, by: i) undertaking a joint cross-border risk assessment or thematic study focused on current money laundering threats posed by EMIs/PIs operating in the three countries and targeting high-risk customers from the FSU; ii) establishing regional Expert Groups to share intelligence with the largest private EMIs/PIs operating in the three countries; and iii) consider the introduction of mandatory targeted transaction and record-keeping requirements on EMIs/PIs serving legal entities owned by high-risk customers.
To download the report click HERE
< Back to News

We re-affirm our commitment to the values that AmCham stands for and that we share.
Kārlis Danēvičs, Board member, Head of Credits and Risk at SEB Banka