Promoting IT & STEM sector among schoolchildren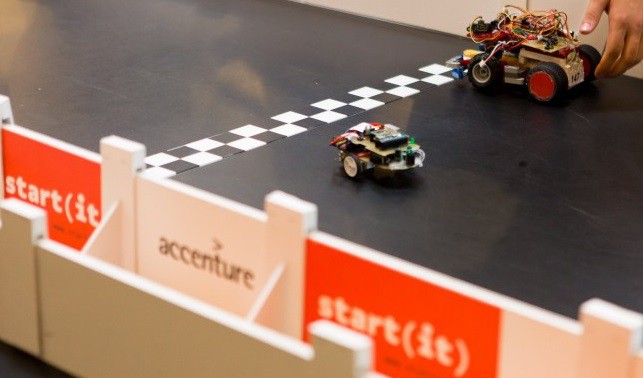 One of the IT Education Foundation's founders Accenture Latvia is continuously promoting the Information Technology (IT) and STEM sector among schoolchildren as an option when choosing a future profession and to increase the number of children and students who study math, design, programming in-depth in primary schools, secondary schools and universities. Likewise, the foundation is working to foster the development of the education system and economic processes nationally, promoting the Information Technology sector as the foundation of the future economy, as well as materially supporting schoolchildren and students learning about IT.
Start(IT), Elements of AI, Design & Technologies and now also the World famous Khan Academy demo project are the best known IT Education Foundation projects.
Accenture wants to encourage the development of the digital skills of schoolchildren, students and every member of the Latvian population. Modern technologies are becoming ubiquitous. Therefore, with every passing day it is becoming increasingly vital to practice them every day not only at work, but also at home.

The foundation is one of the most successful examples of corporate social responsibility in cooperation between the private and public sector.
For its outstanding contribution to education Start(IT) received the Human Development Award of Latvia in the category for "Outstanding Commitment to Education" in 2016. Start(IT) has received the Accenture Global Awards award in 2017. In 2018 UNESCO recognized Start(IT) as one of the 12 best IT education projects.
Start(IT) website is visited by 60,000 users each year and hundreds of teachers have been trained over a number of years. Accenture has supported IT Education Foundation projects for many years and has donated €677,000 to ensure a continuous support.
The IT Education Foundation's founders are Accenture Latvia, Riga Technical University and MAK IT.
< Back to News

Membership is an attestation that we belong to the modern Latvian business community.
Dace Silava-Tomsone, Managing Partner, COBALT