Raidla Lejins & Norcous wins prestigious award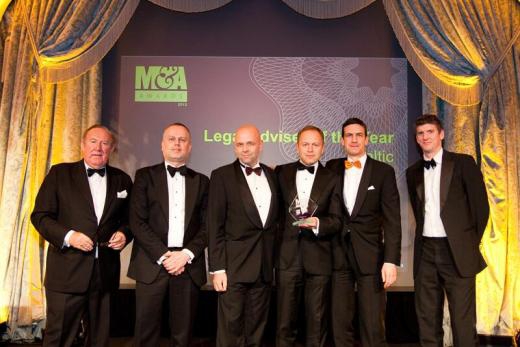 Raidla Lejins & Norcous once again beats notable competitors to win the most prestigious award for the M&A advisory community. For the second time, it was named "Baltic Legal Adviser of the Year 2013" at the seventh The Financial Times/Mergermarket awards ceremony at the end of 2013, recognising excellence in corporate, private equity, banking and M&A legal expertise.

In 2013, Raidla Lejins & Norcous advised on Baltic deals with an aggregate value of more than €1 billion. They were the most active M&A advisor in the Baltic countries, advising on more than 100 transactions, 11 of which were worth more than million USD. Moreover, our deal volume places us in 5th place among firms from the entire Central and East European region for 2013.

2013 has been a special year for Raidla Lejins & Norcous: in April, they received the Baltic Law Firm of the Year 2013 Award from Chambers Europe, the world's leading legal directory.

"It was a year of relentless work, growth and optimism in terms of both number and volumes of the deals concluded. I am proud of our team. We intend to keep doing what we do best: supporting our clients in exploiting opportunities and concluding transactions in the most efficient, safe and profitable way," says Guntars Zile, Partner and Head of the Transactions group of Raidla Lejins & Norcous in Latvia.
< Back to News

Together with AmCham we can develop our networking not only in the local market with local companies, but also reach out to good partners far away from Latvia.
Ugis Grigorjevs, Head of Sales at Nordwoc