Riga Lions defeat the Vitebskas Lynxes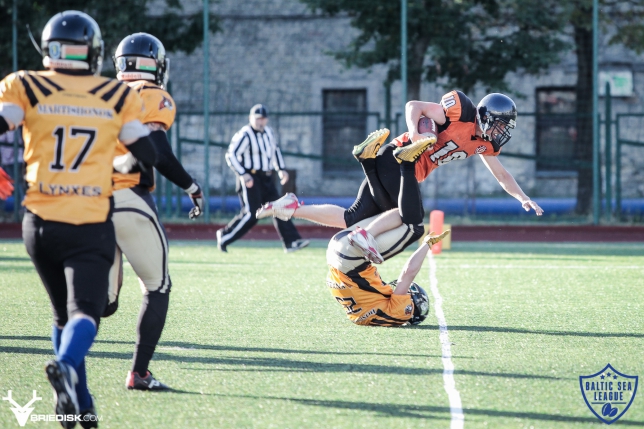 On the evening of August 29th two American football teams met in Riga, the Riga Lions and the Vitebskas Lynxes, to see who emerges victorious from the Baltic Sea League regular season finale. This was the final regular season game of the international football tourney. The Belorussian team, who faced off against the home town favorite Riga Lions, was undefeated in regular season play and ranked 1st in the Baltic Sea League leading up to this game. But, the Lions were able to play outstanding defense against the high scoring team holding the Lynxes to only 7 points and winning 14 to 7. The Lions showed they might have what it takes to win the championship. On the last Sunday of the summer, the stands were packed with fans supporting the Riga Lions who felt the ups and downs of the game just as the players did.
Two minutes before the first half ended the Riga Lions picked up the pace on their offense and earned their first touchdown of the game. Jānis Jermacāns leaped over a defender right at the goal line to pull the Lions to within one point of the Lynxes at half time, 6 to 7. Jānis Jansons received the Most Valuable Player award and a new nickname, Rigas Tank. Jēkabs Bitans was able to score the game winning touchdown to bring the score to 14 to 7 in the Lions favor. The energy and excitement in the stands only grew as the Lions came closer to victory and errupted as time expired.
The league was founded by
the Latvian American football federation
and in the 2015 season 3 countries participated in league play - Latvia, Estonia, and Belarus. Ten games took place during the regular season and on the 10th of October the first Baltic Sea League champions will be crowned. During the 2016 season the league will continue to grow and include new teams from the Scandinavian countries.
< Back to News

AmCham represents the interests of its members, making membership a valuable asset.
Matiss Kukainis, Partner at Spigulis & Kukainis