Riga Office and Vilnius Office MarketView from CBRE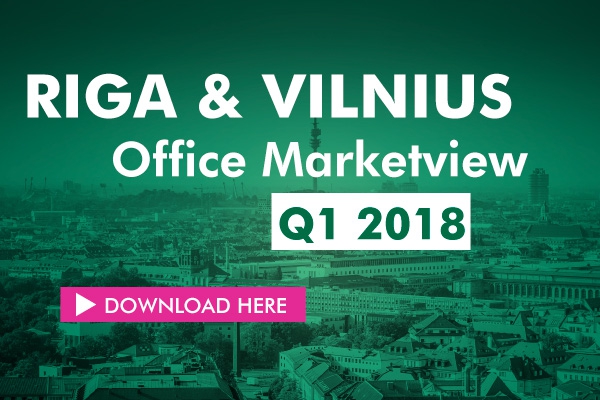 CBRE Baltics has released Riga Office and Vilnius Office MarketView for Q1 2018. In Riga rent levels are stable despite low vacancy and A class developers are showing more confidence, while in Lituania steady demand is tightening vacancy and the developers are boosting the supply pipeline.
Latvia's economic growth surpassed expectations with a strong and broad-based upswing in 2017 and GDP grew by 4.5% y/y. In 2017, Latvian exports of goods and services increased by 4.8% while imports increased by 9.5%. Turnover and volume of sales in the wholesale and retail trade , excluding automotive and fuel, grew by 6.6% in 2017 y/y.
The latest data from the ECB shows that in March 2018 the average level of consumer prices rose by 2.3 % y/y.
The unemployment rate in Latvia decreased from 8.3% in Q4 2017 to 7.8 % in Q1 2018.
Modern office stock in Riga has increased from ca. 615,000 sq m to ca. 618,800 sq m, an increase of 0.62% sequentially with the completion of «Imperial Palace» at Brivibas Boulevard 21, Riga.
Overall vacancy for existing modern offices during Q1 has declined from 3.5% to 3.1% since Q4 2017.
The prime rent level has increased to 17 EUR/sq m/month, whilst the prime yield has remained stable at 6.75%, a compression amounting to 0.25 p.p y/y.
Modern stock take-up in Q1 2018 amounted to ca. 9,400 sq m, a decline of 13% y/y.
Modern stock absorption was ca. 6,200 sq m, a 32% increase sequentially when compared to Q4 2017 and close to 26,600 sq m y/y.
Signed leases during Q1 2018 indicate that the IT and telecommunications segments were the most active in the market. Overall, take-up this quarter was driven by relocations and expansions of established enterprises.
To view Riga Office MarketView Q1 2018
To view Vilnius Office MarketView Q1 2018
< Back to News

AmCham is based on values and behaviors that enable its members to fulfill a common purpose - a sustainable and transparent business environment, and we are truly proud to be a part of this growing community.
Edgars Skvariks, Corporate Public Affairs Manager at Bayer