RMHC Latvija needs a chasing car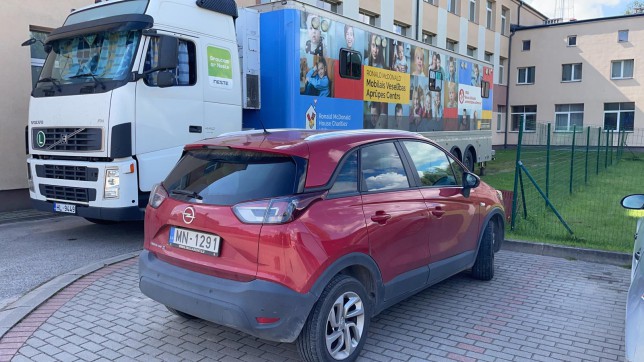 Ronald McDonald House Charities Latvija (Care Mobile) is working at full capacity all year long and this year Care Mobile has already made 65 visits and doctors provided 2637 medical consultations. A team of dedicated doctors is determined to continue visiting all regions of Latvia and providing medical consultations to those children who need it the most, especially in rural areas.

RMHC Latvija is looking for your support! The organization needs a chasing car for daily use to take doctors to children near their homes in Latvia's rural areas and to provide consultations in the Care Mobile. The chasing car provides a vital support of daily visits by enabling doctors to be able to reach various destinations each and every day. Your contribution in any way or form would be greatly appreciated either providing a car or helping out with lease payments.
Thanks to your generous donations to the Care Mobile, the program has been able to involve various specialists from Children's Clinical University Hospital and they will continue collaborating and seeing little patients in various parts of Latvia, especially in remote rural areas, where they lack access of primary medical care due to various factors also next year. The key mission of Care Mobile is to get doctors near children's homes to provide free medical consultations and improve the general health of our children. In most cases the services provided by the Care Mobile are very significant to diagnose various diseases as early as possible and to prevent more serious diseases developing in the future. The team of Care Mobile consists of: allergists, ophthalmologists, neurologists, speech therapists, dermatologist, gastroenterologist, physiotherapist and endocrinologist.
Contact Executive Director of Ronald McDonald House Charities Latvija, Zane Gedrovica to find out more about donation possibilities Mob: +371 2644-8018; zane.gedrovica@rmhc-latvia.lv.
< Back to News

AmCham represents the interests of its members, making membership a valuable asset.
Matiss Kukainis, Partner at Spigulis & Kukainis