Santa is coming to town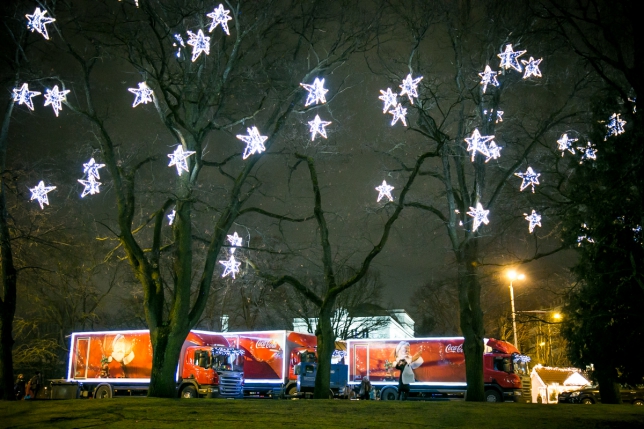 From 21 to 23 December "Christmas caravan" was touring Latvian cities, which was a joint charity project of the Latvian Olympic Committee (LOC) and Coca-Cola HBC Latvia that inspired everyone to turn to an active lifestyle, to prepare sports equipment and to create better conditions for physical activities in schools.
"By engaging in this charity project, the LOC wants to raise public awareness of the importance of sports activities," said the President of the LOC, Aldons Vrublevskis. "Every member of the society is invited to donate sports equipment such as balls, skipping ropes, sticks, rings and other useful equipment for sports activities, which can then be delivered to schools in Riga, Jelgava, Valmiera and Sigulda."
Within the activities of "Christmas Caravan" in cities, members of the Latvian Olympic team shared their success stories along with the opportunity to take a picture with them and have an autograph. Attendees were delighted by Santa Claus and dwarfs, who lead the games creating a Christmas atmosphere. School representatives of Riga, Jelgava, Sigulda and Valmiera were invited to receive the donated sports equipment.
Donations will be delivered to Primary School of Laurenci, Primary School of More, Jelgava Secondary Schools No.4, Jelgava Boarding School No.1, Jelgava Primary School No.2, Jelgava Secondary School No.5, Valmiera Boarding School for hearing impaired children, Valmiera special pre-school educational institution "Bitite", Riga Special Secondary School No.66, Primary School "Rīdze", Riga Sanatorium Boarding School, Daugavgriva Secondary School in Riga, Riga Secondary School No.25 and Riga Primary School in Ziepniekkalns.
< Back to News

AmCham represents the interests of its members, making membership a valuable asset.
Matiss Kukainis, Partner at Spigulis & Kukainis