Culture is a source of inspiration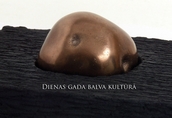 On March 22, the largest Latvian daily newspaper Diena held its annual Culture Awards ceremony, celebrating the most interesting works of art in Latvia in 2012. LAWIN has been among the financial sponsors of the Diena Culture Awards for many years already, because this is a significant event in the cultural life of Latvia.
Fillip Klavins, Managing Partner of the LAWIN Riga office commented: "The jury of the Diena Annual Culture Awards takes an in-depth look at Latvian art and culture each year, in order to find works that are unique and amazing. Regardless of the popular stereotype, the legal profession also requires a certain degree of creativity, which is why LAWIN feels an affinity with this event and is a supporter. Winners of the Diena Culture Awards and their works are always a source of inspiration, helping us to be more creative and think outside the box."
< Back to News

We are very pleased to be part of AmCham and are looking forward to driving innovation forward in Latvia.
Mikko Fernström, General Manager, Biogen Latvia