Strengthening the judicial system and supporting whistleblowers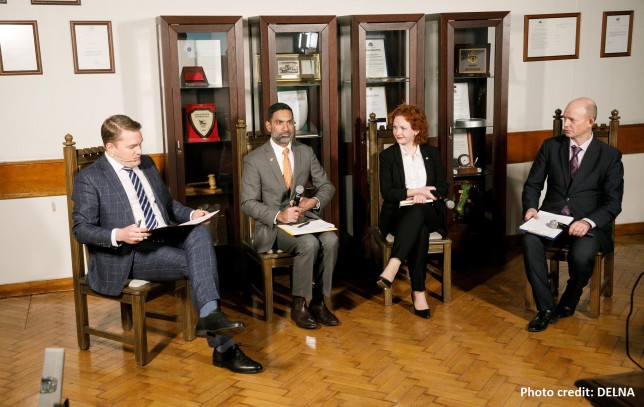 On 15 October 2021, Transparency International Latvia (Delna), the United States Embassy in Latvia and the Transparency Fund organized an international online expert forum and roundtable discussion "Law and system of justice: a tool to fight corruption". Participants in the expert forum and public discussion noted that work is ongoing to improve the independence, quality and effectiveness of the Latvian judiciary in the fight against corruption. This includes specialization of courts and prosecutors in combating economic and corruption-related crimes, training of investigators, prosecutors and judges, and the establishment of a common methodology for judges, ensuring that similar cases are decided in a consistent manner.
The purpose of this event was to raise awareness and understanding of the rule of law in Latvia, the ability of the responsible authorities to anticipate and prevent risks that may, knowingly or unknowingly, result in violations and criminal offences, as well as to detect and prosecute them according to the rules of law. At the same time, we looked at the factors that affect the ability of law enforcement authorities to investigate and convict high-level officials in corruption-related cases and have an impact on political integrity. The event took place on the Zoom conference platform, with live streaming on Delna's social media (www.delna.lv and Facebook) and on the TVNET news portal (in Latvian).
On December 9, DELNA celebrated the International Anti-Corruption Day and expressed gratitude to those people who are reporting wrongdoing in Latvia as well as emphasized the necessity to protect whistleblowers from retaliation at work, granting them anonymity and providing free legal support.
Although Latvia's whistleblowing experience has been recognized as the best in Europe and one of the best in the world, there is still a place for improvement. DELNA pointed out that it is important to:
stimulate public discussion on the nature of whistleblowing and its benefits,
provide support to whistleblowers by advising them in the whistleblowing process, as there are still many knowns.
DELNA also invites to support them with a small monthly donation, to create more favorable environment for whistleblowing in Latvia. Find out more on donation possibilities HERE
< Back to News
Being part of AmCham is a great way to maintain business contacts with entrepreneurs and professionals.
Normunds Bergs, Chief Executive Officer, SAF Tehnika