Suzanne Clark Next CEO of U.S. Chamber of Commerce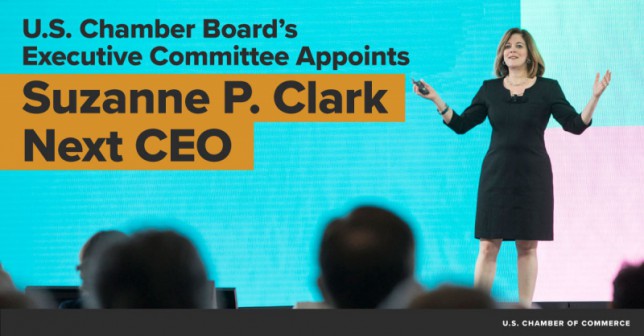 On February 9, the U.S. Chamber of Commerce announced Suzanne Clark to become the next Chief Executive Officer of the world's largest business organization, effective March 11, 2021, the date of the organization's next Board of Directors meeting.

Clark currently serves as the president of the U.S. Chamber, a director on two corporate boards, and she is a former business owner. She will add the CEO title and succeed Thomas J. Donohue, who revitalized the organization and effectively led it for 24 years. U.S. Chamber Board Chair Christopher Lofgren made the announcement today to the Board and in a letter to the organization's members and employees across the country.
"Suzanne Clark's extensive experience through ever increasing responsibilities during her more than 16 years at the Chamber, combined with her ambitious vision and ongoing work to strengthen the U.S. Chamber of Commerce make her the resounding choice to lead the organization into the future," said Lofgren. "On behalf of all the board leaders who have been working on this multiyear succession process, we are profoundly grateful to Tom Donohue for his leadership, passion for this organization, and commitment to free enterprise over the past 24 years."
About the new CEO Suzanne Clark:
Clark was named president of the U.S. Chamber in June 2019. In that role, she has led a multiyear effort to strengthen the organization's well-known influence, advocacy, and impact, while modernizing its work and attracting new members. She also played a key role in strengthening relationships with state and local chamber of commerce organizations to broaden the reach and vision of free enterprise across the country. These investments in the Chamber's future proved prescient when the pandemic hit, enabling the institution to quickly pivot to new ways of working and successfully advocate for business in the midst of a sharp economic downturn.
Earlier in her career, she served in a number of senior leadership positions at the Chamber from 1997 to 2007, before leaving for opportunities in private industry. Prior to re-joining the U.S. Chamber in 2014, she acquired and led Potomac Research Group, a prominent financial information firm. Before that, Clark served as president of the National Journal Group (NJG), where she led the company through a period of rapid digital transformation, resulting in record-level profits and multiple journalism awards.
Clark serves on the boards of two public companies: AGCO, a Fortune 500 global leader in the design, manufacture and distribution of agricultural equipment; and TransUnion, a provider of global risk and credit information.
Read more HERE
< Back to News

AmCham reflects our values and enables us to meet similarly-minded people.
Daiga Auzina-Melalksne, Chair of NASDAQ Riga