10 000 EUR will help 300 children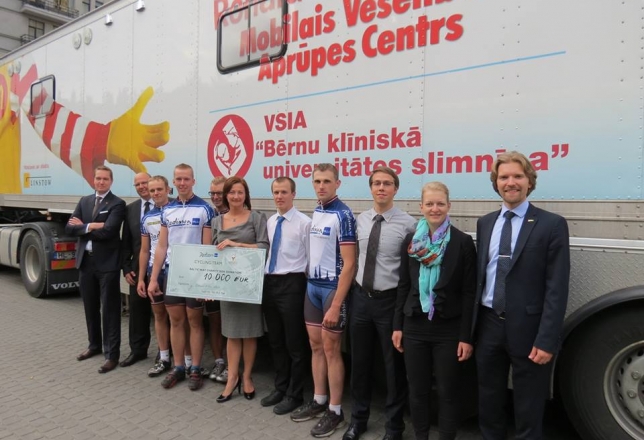 For many years Radisson Blu Hotels in Riga have been supporting the projects of Ronald McDonald House Charities Latvija (RMHC Latvija). On August 19 the Radisson Blu Hotels Cycling Team started the Charity Race by racing 675 km long distance that stretches from Vilnius to Tallinn along the Via Baltica road in 5 days. The aim of this race was not only to promote healthy lifestyle and build a stronger team, but most importantly - to give support to all the children of Latvia and prove that together it is possible to achieve high targets even without extensive financial contributions. Each kilometer raced by the Cycling Team was equal to the distance daily driven by the Care Mobile giving free-of-charge healthcare to Latvia's children.
The Baltic Way Charity ride event was concluded with a special reception together with all charity supporters at the restaurant Esplanade. The Radisson Blu Cycling team handed over a check of 10 000 EUR to RMHC Latvija. These 10 000 EUR will be used to provide healthcare for more than 300 children in Latvia. The Radisson Blu Cycling team expressed gratitude to everyone who made this happen.
< Back to News

Membership is an attestation that we belong to the modern Latvian business community.
Dace Silava-Tomsone, Managing Partner, COBALT