Traditional Latvian sauna house at Rumene Manor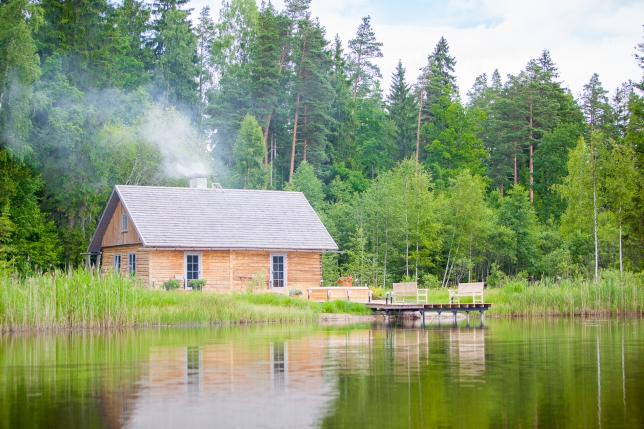 This week we would like to showcase Rumene Manor with a very special offer for AmCham members: a traditional ritual in their sauna house and a special accommodation option in their Garden House. Rumene Manor consists of about 100 hectares, including 5 renovated buildings for guests, a meticulously maintained 7-hectare English-style park, a private lake, a 9-approach golf course (3 greens, 9 different approaches), woodlands and farmland.
Rejuvenate your senses in a traditional Latvian sauna house. Relax, rejuvenate, and replenish your energy from nature in a traditional ritual offered by the sauna house at Rumene Manor with an accommodation option in the Garden House.
One-night stay in the Garden House apartment;
A traditional sauna house ritual;
Continental breakfast served in the Garden House's living room;
Peaceful stroll around historical park;
Check-out till noon.
Special price for accommodation in the Garden House for AmCham Members (includes a traditional sauna ritual with a sauna master):
2 persons in 1 apartment: EUR 525,00;
4 persons in 2 apartments: EUR 775,00;
6 persons in 3 apartments: EUR 1050,00.
Garden House features three large rustic suites with wonderful views of the surrounding park, each with its own bathroom. There is also a separate shared dining/living room area with a fireplace and a private terrace that leads to the private garden area. Adjoining the dining/living room is a kitchenette with a refrigerator, stove, sink, microwave and toaster. There is also an additional guest bathroom with a Finnish sauna adjoining the dining/living room. This is a house for peace, intimacy and privacy.
Reservations, subject to availability, are open until March 31, 2021 with arrival on Wednesday or Thursday. Other dates subject to availability.
Offer is subject to availability, and may not be combined with any other package, promotion or special offer.
Advance room reservations (at least 5 days) is recommended.
Reservations by e-mail: rumene@hotelbergs.lv or by phone +371 28001157.
Please make a reference to AmCham when applying for a discount.
< Back to News

We re-affirm our commitment to the values that AmCham stands for and that we share.
Kārlis Danēvičs, Board member, Head of Credits and Risk at SEB Banka