Transatlantic Economy 2021 released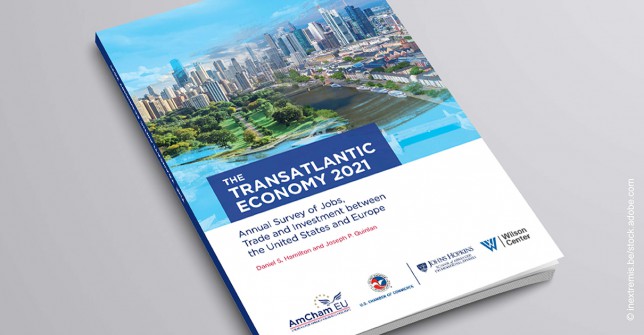 On March 24, the US Chamber of Commerce released its annual survey of the jobs, investment, and trade links between the United States and Europe - The Transatlantic Economy 2021 - in partnership with colleagues at AmCham EU. This year's report confirms that the U.S. and Europe remain each other's most important economic partners despite political turbulence and the COVID-19-induced recession.
The study includes dedicated profiles for 30+ European countries and all US states.

During the report's launch event, European Commission President Ursula von der Leyen hailed the renewed focus on the transatlantic relationship by the Biden Administration, underlining that the transatlantic relationship is the "beating heart of global cooperation" united by a shared "language of cooperation in international affairs… free enterprise and fair competition."
"While the transatlantic relationship has been quite fractious in recent years, the U.S. and Europe's economies remain deeply integrated no matter the metric you use. Investment, trade, the digital economy, services and innovation are still driving the transatlantic economy. We have an important opportunity now to deepen those ties further, especially by quickly eliminating long-standing trade irritants such as the large civil aircraft subsidy dispute and the outstanding tariffs on steel and aluminum and moving to ensure continued transatlantic data flows.

The U.S. and Europe must partner to respond to shared challenges, including pandemic response and recovery, climate change, digital transformation, and countering China's malign practices at home and abroad. We must seize the opportunity to "build back better" together." - Marjorie Chorlins, Senior Vice President for European Affairs

The Transatlantic Economy 2021 report underscores the importance of the transatlantic relationship. Together both economies:
support 16 million jobs on both sides of the Atlantic
generate .2 trillion in total commercial sales annually 
account for half of total global personal consumption
comprise over one-third of global GDP
The report also highlights a number of policy developments to follow in the coming year, including a new transatlantic agenda, focused on boosting jobs, trade, and investment; the evolving relationship between the U.S., EU, and China; the digital transformation; climate change and sustainability; and the changing dynamics of post-Brexit relations with the UK.

Research for the report was conducted independently by Daniel Hamilton and Joseph Quinlan for the Wilson Center's Global Europe Program and the Foreign Policy Institute at Johns Hopkins University's School of Advanced International Studies.
Read the entire report
View Key Findings
View Executive Summary
Learn how our country benefits from the EU-US relationship on thrivingtogether.eu
< Back to News

I would highly recommend membership to other professionals looking to expand their business connections.
Gundars Ziemanis, Latvia branch Country Manager, Siemens Healthineers