Developing math minds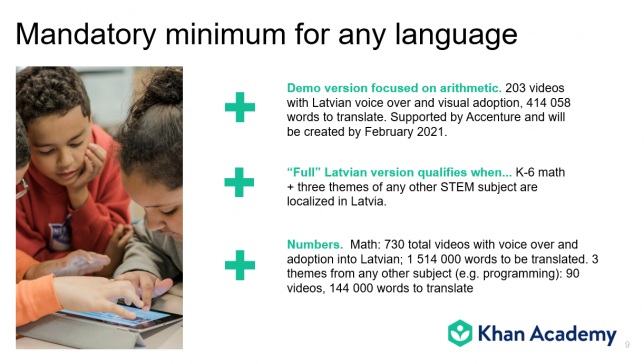 Khan Academy is an American non-profit educational organization created in 2008 by Salman Khan, with the goal of creating a set of online tools that help educate students. Khan Academy's website aims to provide a personalized learning experience, mainly built on the videos that are hosted on YouTube. The website is meant to be used as a supplement to its videos, because it includes other features such as progress tracking, practice exercises, and teaching tools. 
In order to localize Khan Academy into another language, there is a mandatory minimum requirement for the translation of K-6 math and 3 themes in any other STEM subject (e.g. computer science). With the financial support of Accenture Latvia, IT Education foundation Startit.LV has begun the adoption of a demo version in Latvian. It includes 203 videos that need Latvian subtitles and voice over and video edits, as well as over 400,000 words worth of translation of task descriptions, articles and other texts on the website. Currently, the foundation is looking for companies who share their belief in the crucial role of math in our kids future and would be ready to invest in this education project.
Take a look at Salman Khan's inspirational TED speech here.
If you are interested in supporting this project, please contact Evija Celma, CEO of Startit.LV: evija.celma@startit.lv, +371 29660930.
< Back to News

AmCham works hard to accomplish its goals and is a voice in the business community that is heard.
Filips Klavins, Managing Partner at Ellex Klavins