Why U.S. should invest in Europe?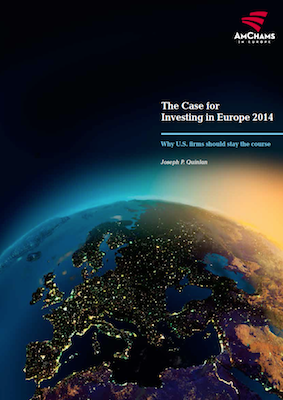 Commissioned by the network of AmChams in Europe, the updated report is a follow-up to last year's edition and shows that despite the Eurozone crisis, Europe offers tremendous investment opportunities for U.S. business and remains the most profitable and easiest region to do business for U.S. companies.
A study written by Joseph Quinlan, Transatlantic Fellow at the Center For Transatlantic Relations, Johns Hopkins and the German Marshall Fund, report takes a long and extended view of Europe and concludes that the case for investing in Europe remains as compelling today as it has been for the past half century. With negotiations for the Transatlantic Trade and Investment Partnership well underway, there is no better time to highlight the value of Europe as a place for American business to invest.
The report reveals that despite Europe's economic difficulties, the region still accounts for about half of total U.S. foreign affiliate income last year, which is roughly double the income from the Asia-Pacific region. This speaks volumes about Europe's underlying importance to corporate America. Europe accounts for about 30% of global personal consumption and its economy is as large as that of the U.S.
Click here to view the updated Case for Investing in Europe.
< Back to News
AmCham is a 'must-join' organization for any company of scope or international ambition.
Karlis Cerbulis, Senior Vice President of NCH Advisors, Inc.