Vote to choose the future building of RBS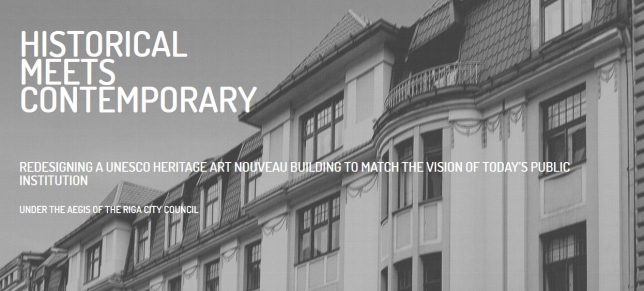 Last year the Government of Latvia designated the entire building of Skolas iela 11 for the development of RBS. In January, RBS in cooperation with Riga City Council announced a global competition for the renovation design. 17 teams from 12 countries have submitted their ideas. All the works have been posted on build.rbs.lv website as well as in the central stairwell of RBS.

The project leader Tatiana Ginzburg admits: "We are very satisfied with the results of the 1st stage of the contest. Right after announcing the competition, we realized that many people are interested in the project. Now, when the first stage is completed, we see that the submitted projects are creative and of very high quality. We would like to thank all the participants and supporters of the contest."
Please look at the art, imagination and inspiration of young architects from around the world, and cast your vote for your favorite project on build.rbs.lv. Your votes will determine the architect to be invited to the Charrette in July and will also help us to build inspiring learning environment.
You are welcome to visit RBS and view all the projects displayed in the central stairwell.
< Back to News

AmCham provides S3 a great opportunity to connect with business community.
Agne Stojakove, Market Vice President, Country Manager Strategic, Staffing Solutions International