What Happened at the VārdZinis 2015?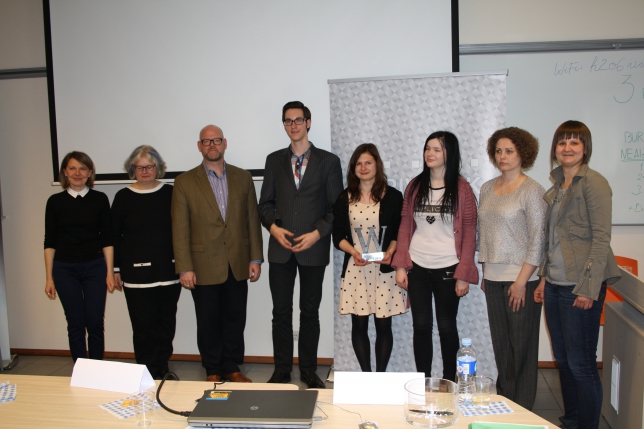 VārdZinis 2015 English Language Competition that took place on 8 May brought into the spotlight three highly skilled spellers:
First place went to Maija Olšteina from Riga State Gymnasium No.3.
In second place was Zigurds Teikmanis from Jāzeps Mediņš Rīga Secondary Music School.
Third place went to Baiba Niedrīte from Riga Evening Gymnasium.
VārdZinis 2015 was organized in Latvia for the third year running, after being inspired by the very popular Spelling Bee contests in the United States and elsewhere. The purpose of the contest was to determine which Latvian secondary school students had the best English skills, and also to motivate young people to learn foreign languages. Students of Grades 10 to 12 from all over Latvia participated in the contest, which was organised by the international language company, Skrivanek Baltic, with support of the British Embassy in Riga, the Embassy of Canada to Latvia in Riga and the Embassy of the United States of America in Riga, the American Chamber of Commerce in Latvia, the British Chamber of Commerce in Riga, the Latvian Association of Teachers of English, and the Riga International School of Economics and Business Administration (RISEBA), Verners DE home appliance store chain, SIA Karšu izdevniecība Jāņa sēta, AERODIUM vertical air tunnel, ekoshop.lv and M79.lv internet stores, SIA Latvijas Monētu nams, Globuss bookstore, Reebok and Tallink Latvija.

Skrivanek Baltic would like to congratulate the three winning participants in the contest. Here's looking forward to next year's contest and all its hopeful participants.
< Back to News

AmCham and PwC share the same values and targets to achieve socially.
Zlata Elksnina-Zascirinska, Country Managing Partner at PricewaterhouseCoopers