Work from Anywhere!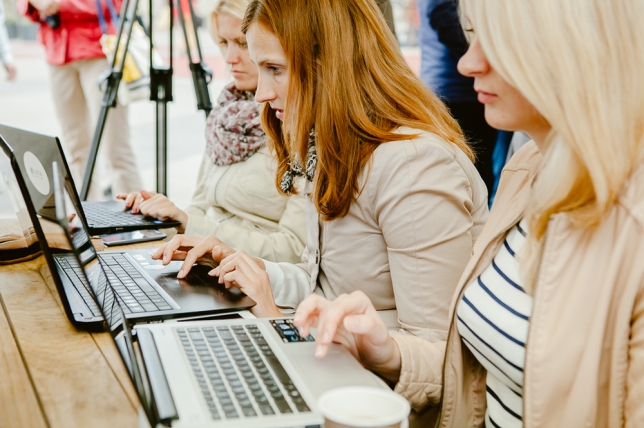 The goal of "Work From Anywhere!" day since the 2012 is to inspire Latvian organizations to try the flexible working style that nowadays is supported by the numerous advantages brought by modern technologies, including the Wi-Fi availability. During that day we also encourage everyone to think about the efficiency of their usage of resources and to evaluate the quality of a work-life balance.
In 2013 on May 31st 150 people from 55 organizations have demonstrated the benefits of flexible working style at the Station Square (Latvian: Stacijas laukums) near t/c Origo.
This year Microsoft Latvia together with partners Lattelecom, Spīķeri, Go Beyond, DPA and World Wide Fund of Nature worked to continue the initiative and invited everyone to join "Work From Anywhere!" day on May 29, 2014 to work together at Spīķeri Square!

Despite the challenging weather the public event on May 29th gathered more than 250 participants from more than 70 different organizations (private, public and NGO). The participants worked together for 2h in Spīķeri - one of the main art and culture centers of Riga. The main aim of the event was to raise awareness on the advantages of flexible working style by drawing together a big number of people from different organizations to work together outside the office. In total that day approx. 300 people were demonstrating the flexible workstyle in Riga un 3 regional cities - Sigulda, Cēsis and Valmiera.

The benefits and opportunities for the participants this year: Working together and networking in creative environment, gaining inspiration in the fresh air.
Planning your working day and adjusting it to your necessary tasks.
Finding the best balance between work and private life.
Making good use of available resources including time and money.
Seeking a way to decrease the harmful impact of your activity on nature and the environment.
Building a networking platform where employers could meet prospective trainees and/or new employees.
Informative partners and supporters of the event: Latvian Chamber of Commerce and Industry, Mailigen, IT portal Kursors.lv, IT blog Kakao.lv, Edu portal Prakse.lv, iDEA HOUSE events, Customer service and sales association, Latvian Information and Communications Technology Association, Latvian Public Relations Consultancies Association, program "Trešais tēva dēls", Latvia Internet Association, Latvian Civic Aliance, organization "Darba Vieta", Association of Creative Districts and Territories, Sigulda municipality, Cēsu municipality, Valmieras municipality, Project RIGA COMM (SIA BT 1), Centre for Young Entrepreneurs, Business Radio 1, Baltic Pictures, Latvenergo.
< Back to News

I would highly recommend membership to other professionals looking to expand their business connections.
Gundars Ziemanis, Latvia branch Country Manager, Siemens Healthineers