Newsletter

March 2023
Welcome to our monthly newsletter. This month we held our 30th AGM and held a Board election. John Tully will continue to lead AmCham while Liene Dubava, Roberts Melbardis, Pauls Miklasevics, Ieva Racenaja will serve as Vice Presidents for the next year.

In March AmCham together with Cognizant held a session on sustainability and ESG and the challenges and opportunities for businesses when integrating ESG strategies into their operations. The AmCham advocacy groups had the opportunity to meet with the Ministers of Economy or Health to discuss their priorities and some of the most pressing issues for the international business community. We were hosted by our member ATU Duty Free at the VIP center of Riga Airport and enjoyed excellent presentations and networking.

On April 6 AmCham celebrates its official founding date 30 years ago. We look forward to seeing many of you at our 30th Anniversary Gala Dinner and celebrating this important milestone together! As part of our Anniversary activities, we are holding a Silent Online Auction benefiting the following charities selected by our donors: Children's Hospital Foundation, Latvian Foster Family Association, Pink Train Foundation and SOS Children's Villages in Latvia. By placing a bid, not only will you support local charities, but also will be able to obtain a valuable work of art to be displayed at your home or office.

In the meantime, check out our calendar and sign up for one of our upcoming events!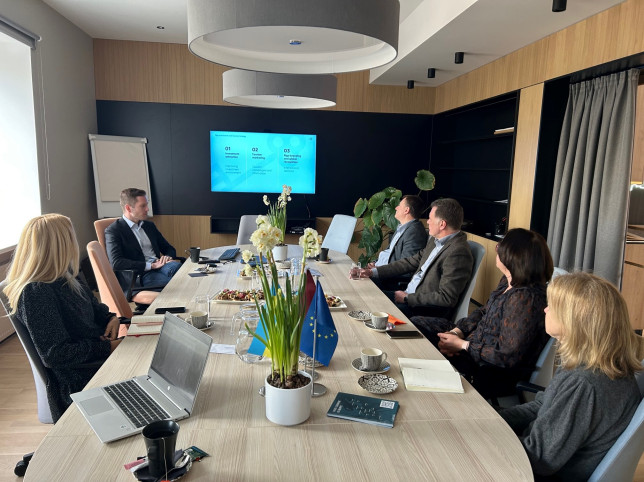 Apr 05, 2023 (16:00-17:00) - AmCham meets with Director of Riga Investment and Tourism Agency. Read more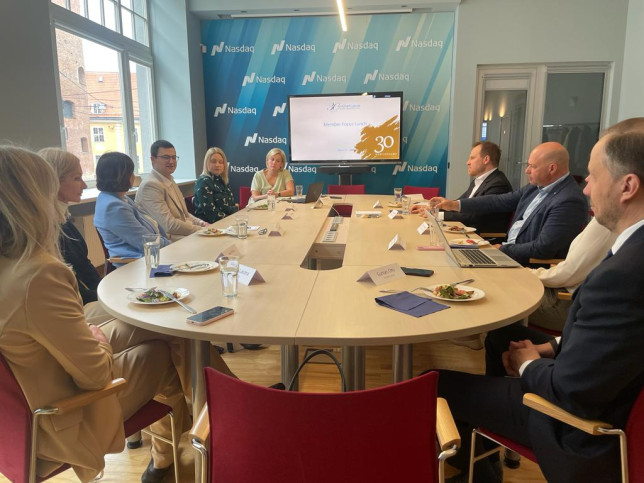 Apr 13, 2023 (12:30-14:00) - Members share their feedback. Read more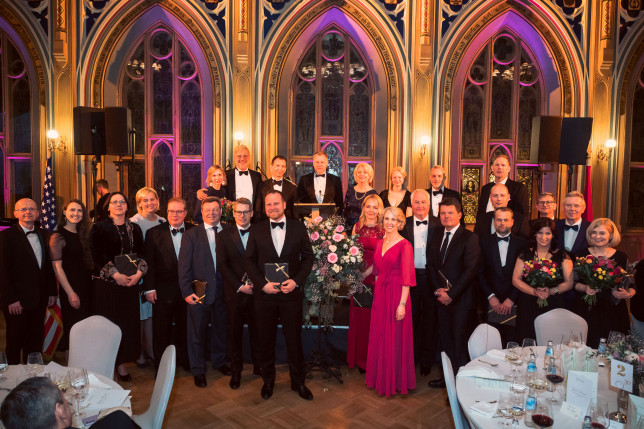 Apr 22, 2023 (18:00-23:55) - Celebrating 30 years in Latvia. Read more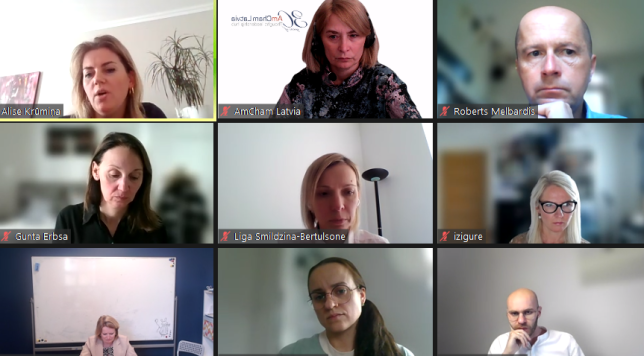 Apr 25, 2023 (16:00-17:00) - New Co-Chairs for the Healthcare Working Group. Read more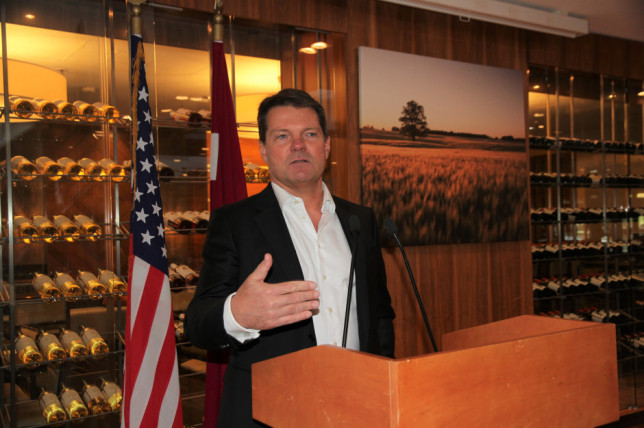 Apr 28, 2023 (12:00-14:00) - What's next for banking sector?. Read more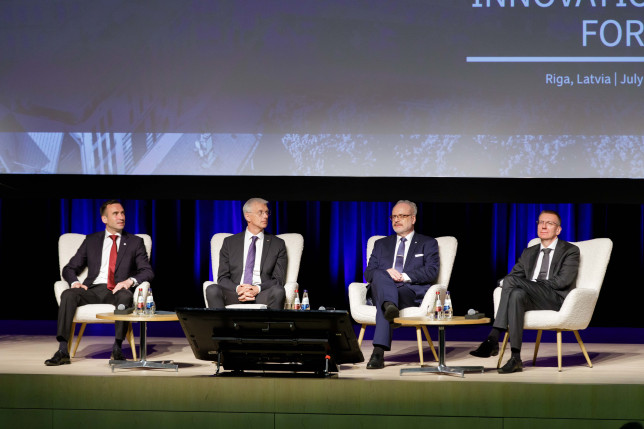 Jul 05, 2023 (09:00-18:00) - 500 participants from 25 countries join WLEIF. Read more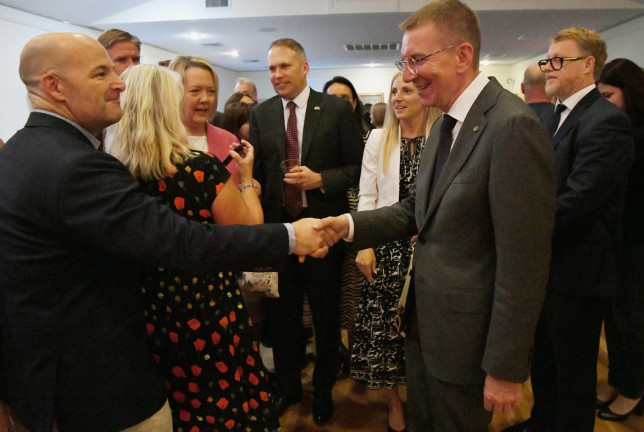 Sep 21, 2023 - Sep 22, 2023 - Spotlight Latvia fosters trade and investment between the U.S. and Latvia. Read more
AmCham holds 30th Annual General Meeting

Our 30th Annual General Meeting was a great success, with over 70 participants in attendance and honored guest Christopher Robinson, U.S. Ambassador to Latvia. Members met to review the past year's activities and elect the Board of Directors. Roberts Melbardis, Pauls Miklasevics, Ieva Racenaja and Sarmis Spilbergs were re-elected to the Board for a 2-year term. Liene Dubava, Dita Erna Sile, Kerli Vares, John Tully and Liga Smildzina-Bertulsone will continue to serve on the Board. Following the AGM, the board elected its officers: John Tully will continue to serve as Chair of the Board, while Liene Dubava, Roberts Melbardis, Pauls Miklasevics, Ieva Racenaja as Vice Presidents for the next year. Read more

ESG brings higher value to business

On March 21, AmCham together with Cognizant hosted a session devoted to the topic of sustainability and ESG, and the challenges, risks and opportunities for businesses when integrating ESG strategies into their operations. Invited experts agreed that the directive for sustainability reporting and other upcoming regulations will affect companies of all sizes and will require the collection of data, the assessment of existing business processes, value chains and the introduction of new processes. Although the implementation of ESG is a complex task, it can ultimately add real value and increase operating profits for businesses. Read more

The airport of tomorrow

March Business After Hours was graciously hosted by ATU Duty Free and Riga Airport at the airport's VIP Center. Members had the opportunity to gain insights on the airport's future plans and vision, as well as the new mixed-use development - Riga Airport City. They also discussed the sustainability and competitiveness challenges facing duty-free and travel retail businesses. Thanks to the hosts for organizing a fantastic event that offered both educational discussions and valuable networking opportunities. Read more

Preparing your business for emergencies

On March 30, the Overseas Security Advisory Council (OSAC) Riga and AmCham held a Crisis Emergency Management Exercise (CME) with speakers from the U.S. Government and the private sector at the premises of the U.S. Embassy. Robert Fagan, representative of the U.S. Department of State Foreign Service Institute Crisis Management ran the CME and Michael Thiessmeier, representative of National AI and Cybersecurity ISAO shared real-world responses. Read more

#EMBRACE EQUITY with EMPOWER HER

On March 2, AmChams in Europe, AmCham EU, and the U.S. Commercial Service hosted a high-level online discussion celebrating the 2023 International Women's Day (IWD) under the mantle of the EMPOWER HER initiative. Participants discovered first-hand how the Department of Commerce and the private sector are embracing equity – the theme of this year's IWD – and empowering women economically, both internally and in their communities. The keynote address was delivered by Marisa Lago, U.S. Undersecretary of Commerce for International Trade. To revisit the event CLICK HERE Read more
Improving people's lives with innovative medical technologies

We are delighted to continue highlighting our members and sponsors of our 30th Anniversary, and are pleased to share a video featuring Medtronic, represented by Edgars Labsvirs, Health Policy and Market Access Manager Baltics. In his video, Edgars stresses: "We believe innovative medical technologies can contribute to solving the fundamental challenges of our health systems - namely an aging population and ever-increasing healthcare costs. It is meaningful innovations that have the potential to make the healthcare system more efficient and to alleviate pain, restore health, and extend lives of more people at the same or lower cost." Read more

The importance of advancing human capital

Another Anniversary Year Sponsor Cognizant, represented by Kim Leandersson, Head of Cognizant Baltics, stresses the importance of human capital development in Latvia and, particularly, the lack of skilled workforce, urging to prioritize talent attraction. Kim says: "The main challenge for most companies in Latvia is to find workforce - skilled employees. This is definitely the challenge I would really hope our politicians will start to act on." He adds: "AmCham work groups are very good platforms where you can both discuss and get inspiration from other companies in similar situations and, of course, also take this further to the government and to the parliament in order to improve the legal systems and society." Read more
AmCham meets with the Minister of Economy

On March 10, the Board and work group representatives of AmCham had a productive meeting with Ilze Indriksone, Minister of Economy and discussed the economic transformation, high-value investment attraction and targeted development of human capital. The investment attraction strategy, particularly providing a "green corridor" for knowledge-intensive sector priority projects as well as steps for reducing bureaucratic obstacles in the business environment were also discussed. Read more

The Minister of Health outlines her priorities

On March 21, AmCham representatives met with Liga Mengelsone, Minister of Health to get familiarized with the Minister's priorities and to introduce her to the AmCham Healthcare work group's activities including sustainable healthcare financing, the efficiency of the healthcare system and digital health. Human capital is one of the top priorities for AmCham, including proactively supporting healthcare policy improvements as the basis for further economic growth. Read more

Discussing ongoing healthcare issues

On March 14, members of the Healthcare work group gathered to discuss the latest developments with regard to ongoing healthcare issues: healthcare financing and efficiency, digital health, and the legal framework of secondary health data. Members also touched upon recent and upcoming meetings with government representatives. Read more

Highlighting education and the labor market

On March 22, members of the Labor Force work group met to discuss the education sector's response to the labor market needs. Members also pointed out challenges they are facing when attracting and employing international talent, including the necessary amendments to the Labor law. The group also discussed topics for the meetings with the Minister of Education and university rectors aiming for closer collaboration. The meeting was hosted by Riga Graduate School of Law. Read more

FICIL elects a new Executive Board

On 7 March, Foreign Investors' Council in Latvia (FICIL) held its Annual General Meeting where the new Executive Board was elected. There are three newcomers to the FICIL Board in 2023 – Ilze Zoltnere, Head of Corporate Department for Luminor Bank, Juris Antužs, CEO and country manager at Enefit Green, Māris Vainovskis, Senior Partner at Eversheds Sutherland Bitāns. Iain Kennedy, CEO of BALTA Insurance Company was re-elected to the Board for another term. Read more
RSU launches €22 mln worth Research Center

On March 31, Riga Stradins University launched 22 million euro worth Pharmaceutical Education and Research Center. The 7,151 m² multi-storey building, which is being built with co-financing from the European Regional Development Fund, will house modern study facilities and a world-class science center, including a research laboratory for finished dosage forms. Read more

Roche expands business presence in Riga

On March 24, Roche announced the launch of a new branch of its Roche Services & Solutions (RSS) EMEA in Riga and plans to employ more than 200 specialists over four to five years. The company's decision to open an RSS office in Riga, in addition to its existing Pharma and Diagnostics Teams, shows the company's commitment to making substantial investments in Latvia. Read more

Nasdaq welcomes PwC as a Certified Adviser on First North

On March 15, PricewaterhouseCoopers (PwC) was granted the status of pan-Baltic Certified Adviser on the Nasdaq First North market designed for ambitious small and medium-sized companies in the Baltics. Being a Certified Adviser permits PwC to guide growth companies in Baltics through the Firth North application process and ensure they meet all the market's requirements on a continuous basis. Read more

Digital skills development continues in the Baltics

After the success of last year's Virtual Internships in the Baltics project, the Latvian Information and Communications Technology Association (LIKTA), with the support of Microsoft, will continue its Digital Skills Development program in 2023 by providing AI course for beginners in local languages and English, AI course for specialists and Power BI and Python programming courses. Read more

Report on philanthropy and CSR in CEE is out

Social Impact Alliance for Central & Eastern Europe has launched a report "Philanthropy and Corporate Social Responsibility in Central & Eastern Europe (CEE)". The report for Latvia is part of a larger study conducted in 11 countries, indicating that with proper motivation, CEE citizens would be willing to donate almost twice as much as now. The report also provides valuable takeaways and recommendations in the realms of tax reform, cultivating social preconditions for donors, as well as implementing various legal and educational changes to increase donations. Read more

COBALT, Ellex and Sorainen among top-tier legal firms in the Baltics

COBALT, Ellex and Sorainen were recognized as top-tier legal firms by the newly published Chambers Europe Guide 2023. This year COBALT received the highest ranking – Band 1 – in 16 practice areas, Ellex in 14 practice areas and Sorainen earned the highest ranking in 16 areas across the Baltic states. Read more

Latvia improves its performance in combating bribery

Latvia is the only European Union (EU) Member State to have improved its performance in combating bribery of foreign public officials, according to Transparency International's report Exporting Corruption 2022, however, several recommendations still need to be implemented. The successful pre-trial investigations carried out by the Corruption Prevention and Combating Bureau of Latvia (KNAB) and the measures taken by Latvia to improve this area have been welcomed and placed on a par with the United Kingdom, Germany, France and Norway. Read more

Transatlantic Report shows strong EU-US partnership

A new Transatlantic Report 2023 from AmCham EU and the U.S. Chamber of Commerce highlights that the key drivers of the transatlantic economy – investment, trade and company income – despite the war in Ukraine, supply chain disruptions, dramatic energy shifts, high inflation and tightening financial conditions posted strong results again in 2022. To view key findings! Read more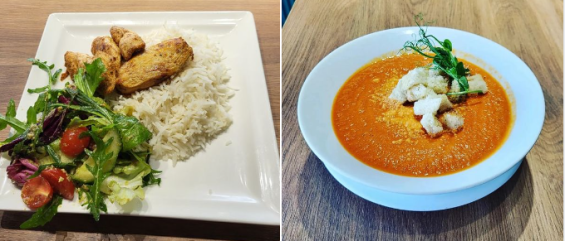 B and C Restaurants announces a launch of a new cafe Cafe Totem in Marupe and offers the deal of the day by. Read more

A very special full-service solution leasing by Avis - Toyota Corolla. Read more

Enjoy a full-service leasing offer from Avis - Toyota Yaris Cross. Read more
Lenonend announces the first three support programs of the Recovery Fund that are opened for businesses. Read more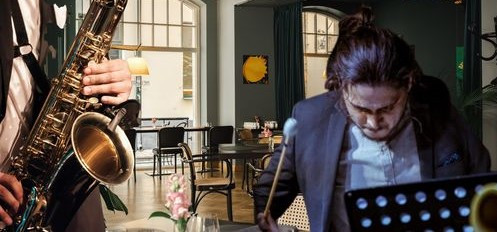 Hotel Neiburgs invites to a jazz evening with Toms Rudzinskis un Felix Robin at Cafe Neiburgs on April 15. Read more
A special 10% discount on Easter brunch at Amber restaurant of Grand Hotel Kempinski Riga on April 9. Read more
Follow us on
Member of the AmCham network | © American Chamber of Commerce in Latvia 2023