Newsletter

April 2023
Welcome to our monthly newsletter. This past month has been very busy here at AmCham. With more than 200 members and distinguished guests, we celebrated AmCham 30th Anniversary with a festive black-tie dinner at Small Guild. We also met with Fredis Bikovs, Director of Riga Investment and Tourism Agency and our members discussed their businesses and provided feedback on AmCham's activities during the Member Focus Lunch.

The most active AmCham Healthcare work group elected Edgars Labsvirs of Medtronic and Alise Krumina of Roche as the Co-Chairs of the group. Congratulations to both co-leaders!

We continue our activities with a rich program of events. Just click on the links below and sign up!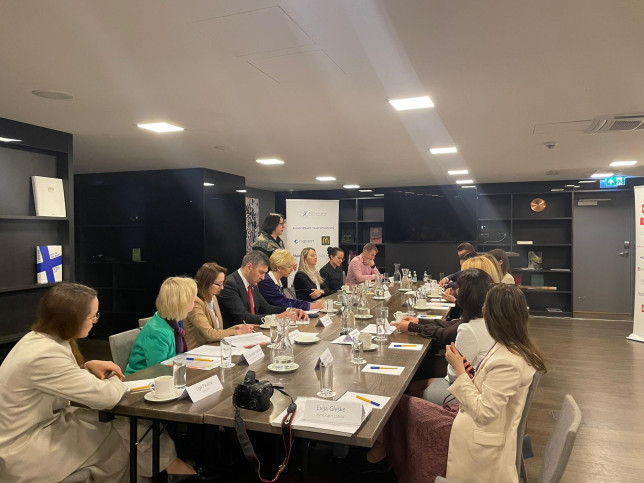 May 18, 2023 (11:00-12:00) - Prioritizing the human capital development. Read more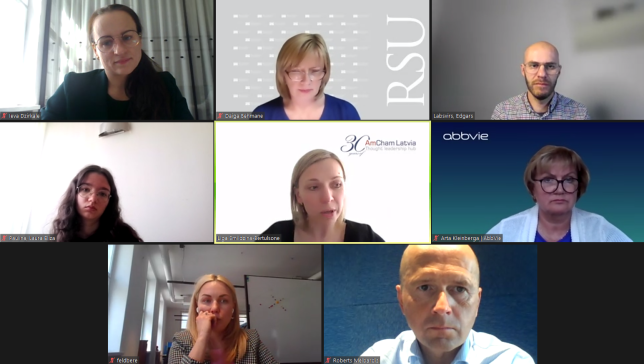 Jun 06, 2023 (16:00-17:00) - Update on healthcare projects and events. Read more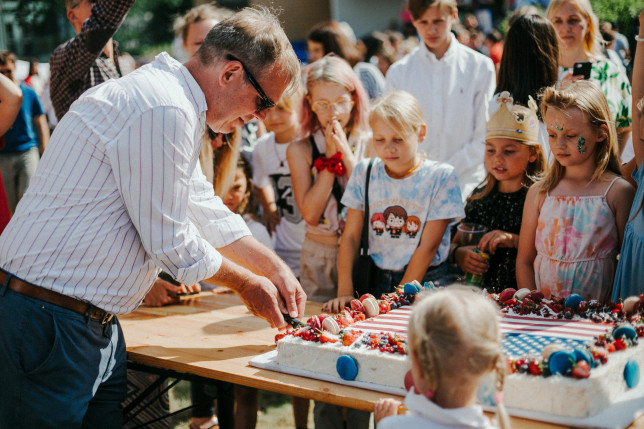 Jul 01, 2023 (13:00-16:00) - Over 500 people celebrate U.S. Independence Day at a family picnic. Read more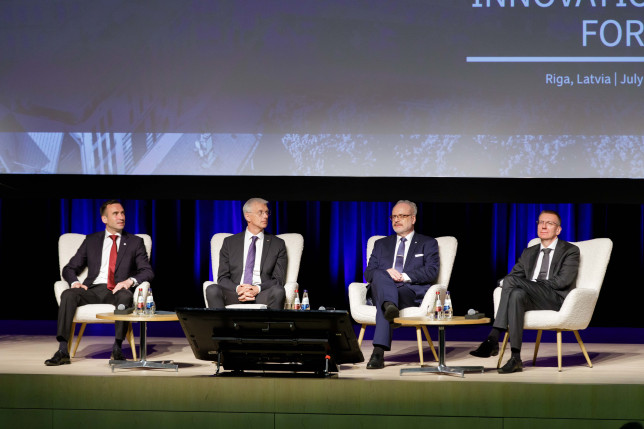 Jul 05, 2023 (09:00-18:00) - 500 participants from 25 countries join WLEIF. Read more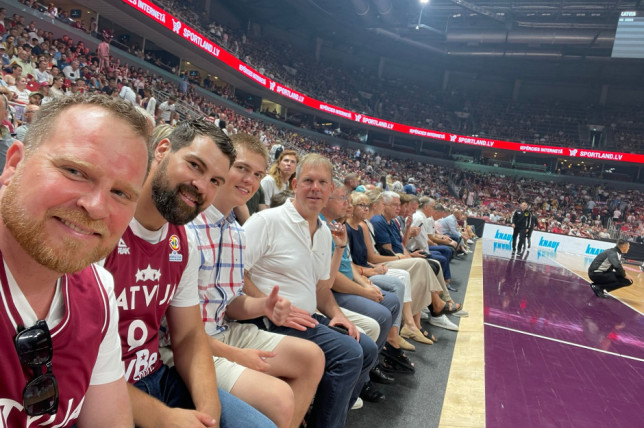 Aug 16, 2023 (17:30-21:00) - Latvian team wins FIBA Basketball World Cup Test Match. Read more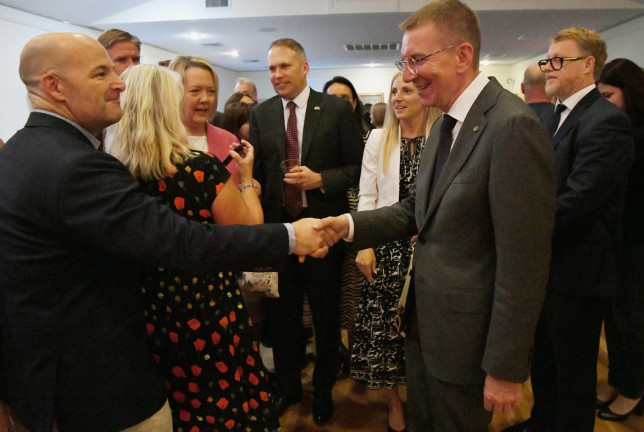 Sep 21, 2023 - Sep 22, 2023 - Spotlight Latvia fosters trade and investment between the U.S. and Latvia. Read more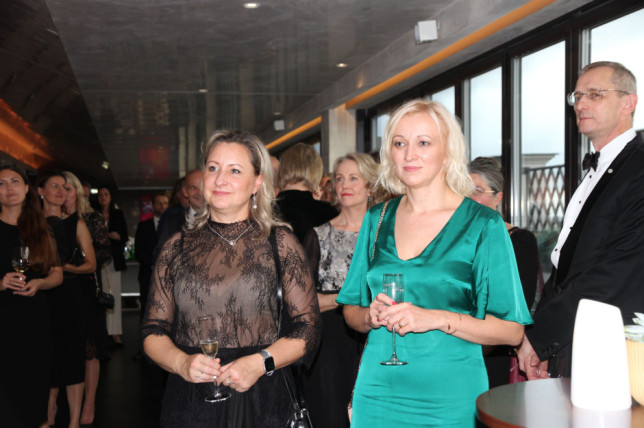 Oct 05, 2023 (16:30-22:00) - Enjoying Verdi's masterpiece: Don Carlos. Read more
Dec 07, 2023 (18:00-21:00) - Christmas Charity Reception. Read more
Celebrating 30 years in Latvia

More than 200 members and guests celebrated AmCham 30th Anniversary with a festive black-tie dinner last Saturday, April 22 at Small Guild and the participation of distinguished guests President of Latvia Egils Levits, U.S. Ambassador Christopher Robinson, former President of Estonia Toomas Hendrik Ilves and Mayor of Riga Martins Stakis. AmCham reflected on the evolution of the organization and offered an overview of the most significant milestones and recognized AmCham past and present board members, presidents, vice presidents and founding members. In a silent charity auction €3150 was raised to the Children's Hospital Foundation, Latvian Foster Family Association and SOS Children's Villages. Read more

What's next for banking sector?

On April 28, Nils Melngailis, Chairman of the Supervisory Council of Luminor Bank and non-Executive Director at Printful addressed AmCham members on recent challenges the banking industry is currently facing, including aggressive interest rate hikes, increasing competition, enhanced regulation, and slow economic growth. He emphasized that European banks, including ones represented in the Baltic region, are in much better shape than the ones in the U.S. Read more

Members share their feedback

A group of members, representing various industries joined the AmCham board and staff representatives for Member Focus Lunch on April 13 to discuss their businesses and provide feedback on AmCham's activities. Among the topics discussed were value-based procurements, public-private partnerships, tax system improvements, and sustainability issues. We are grateful to Nasdaq Riga and Domino's Pizza for hosting and supporting the event! Read more

AmCham meets with Director of Riga Investment and Tourism Agency

On April 5, AmCham Advocacy group representatives met with Fredis Bikovs, Managing Director of Riga Investment and Tourism Agency to learn more about the priorities and plans of the agency and discuss issues important to the attraction of foreign direct investment and human capital. Read more
Looking back and starting a new chapter

In the anniversary month of AmCham we talked to our members about the reasons they are in AmCham and what is the future of our organization. Watch the video! Read more

Birthday greetings from Mount Everest

We continue to receive birthday greetings from near and far. Our Board Member and Founding Member Juris Ulmanis sends well wishes from the Everest Base Camp. Read more
BaltCap becomes a member

BaltCap, the largest and most experienced private equity firm in the Baltics, operating in the Nordic and Baltic countries as well as in Poland, has joined the Chamber as a Corporate member. BaltCap is a multi strategy investor focusing on buy-out, growth capital, venture capital and infrastructure investments. In the Chamber it will be represented by Dagnis Dreimanis, Managing Partner. A warm welcome to AmCham! Read more

Annemarija Linaresa joins AmCham

Annemarija Linaresa, a Latvian-American physician, lawyer, and healthcare executive with deep leadership experience in accountable care, value based payment models, home based primary care, palliative care and hospice, has recently joined the Chamber as an Individual member. She relocated to Riga from the U.S. in December 2022. A warm welcome to Annemarija! Read more
New Co-Chairs for the Healthcare Working Group

At the Healthcare work group meeting on April 25 Edgars Labsvirs of Medtronic and Alise Krumina of Roche were elected the Co-Chairs of the group. The work group members expressed gratitude to Dita Erna Sile who stepped down after driving the group's activities over the last two years. The work group focuses on completing several projects, mainly in the field of value-based healthcare, healthcare financing, digital health, secondary health data as well as works closely with the government in implementing the group's agenda. Read more

Between geopolitics and effective governance in Latvia

On April 24, FICIL presented the foreign investors' assessment of the business environment in Latvia, taking a closer look at the development of public sector reform, workforce availability, fair competition, combatting shadow economy as well as other key topics of concern. Dr. Arnis Sauka outlined the main results of FICIL Sentiment Index research and emphasized that most investors see the least progress in solving key issues such as - demography, access to labor, reducing uncertainty and the healthcare system. Revisit the discussion! Read more
Latvia to receive support for innovations in higher education

On April 21, the Advisory Board under the supervision of Riga Business School has approved 56 representatives from higher education institutions and businesses, and government officials to participate in the Leadership Programme. It also approved six education innovation projects, led by 18 representatives from Latvian universities, for further development. Read more

BaltCap and COBALT contributes to Latvian investment environment

On March 30, the winners of the "Investor of the Year 2022" award were announced. COBALT and BaltCap both have been awarded for making a significant contribution to the Latvian investment environment. COBALT was named as a Legal Consultant of the Year and BaltCap Sustainability Award of the Year as well as best in the category Sale of the Year along with Draugiem Group. Read more

SEB to hire more than 100 new employees in Baltic countries

SEB banks in Baltic countries have started a recruitment programme to hire more than 100 new employees in the Baltics this year to completely new product development and IT positions. The aim is to offer customers new set of services and service upgrades already this year. Read more

BaltCap to become majority shareholder of HansaMatrix

BaltCap through its company Emsco will become the largest shareholder of the high-tech company HansaMatrix. BaltCap has successfully concluded the voluntary share purchase offer by acquiring 93.1% of HansaMatrix shares. BaltCap plans to propose delisting from the regulated market. In November 2022, the Competition Council of Latvia decided to allow BaltCap's company Emsco to acquire HansaMatrix. Read more

New rector for RISEBA University

On April 19, RISEBA elected the current Vice Rector of RISEBA Studies, professor Lucija Rutka, as the new rector. She is an author of more than 50 scientific publications in internationally recognized databases in psychology, personnel management, pedagogy and education. She is also a member of Latvian Association of Professional Psychologists and American Educational Researchers, Latvian Science Council expert in educational sciences. Read more

AmCham members among top employers

Many of our members have been named as Top Employers of 2022 according to a survey conducted by CV-Online. We are proud of all our members who have gone the extra mile by taking care of their employees and businesses: Swedbank ranked as Top Employer 2022 and the best employer in the financial sector. Other top banks in the finacial sector included SEB bank, Citadele banka and Luminor. airBaltic was named the 3rd best employer in the transport and logistics sector. Premier Restaurants Latvia (McDonald's) was declared the 8th best employer in the public catering sector. Latvijas Finieris was the 6th best and MikroTik was the 7th most popular in the manufacturing sector. Accenture ranked the 2nd best in two categories - IT and telecommunications and international business. Riga Stradins University was announced best employer as a state-funded university for the 1st time. Read more

Join Pink Train May Marathon

After a 3-year break, the Pink Train Foundation is delighted to announce the Pink Train May Marathon and invite members to take part and help them to raise funds for a good cause - cover the costs of counseling and physiotherapy for breast cancer patients. During the month of May run, walk, cycle, ride, rollerblade or use whatever other means to "do" 42 km. Donations can be made via their fund-raising link or directly to their bank or PayPal accounts. Read more
B and C Restaurants invites to visit a new cafe Cafe Totem in Marupe and offers the deal of the day for a special price: Read more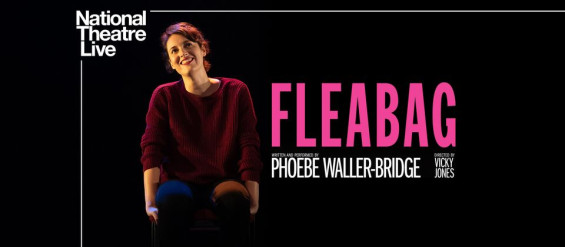 London Royal National Theatre repertoire will be broadcasted exclusively on Forum Cinemas' big screens in May, August and September. Read more
Follow us on
Member of the AmCham network | © American Chamber of Commerce in Latvia 2023