Newsletter

January 2023
Welcome to the 30th year of AmCham Latvia! Throughout 2023 our community will commemorate our achievements and will look forward to an exciting future. Although the year will be full of festive activities, make sure you don't miss our black-tie Gala Dinner on April 22. We welcome you to share your success stories on business relationships between Latvia and the U.S.

This month we bid farewell to U.S. Ambassador Carwile as he concluded his 3-year tenure in Latvia. The Ambassador welcomed AmCham members to a breakfast where he expressed gratitude for promoting trade and investment and representing the best of American and Latvian innovation and entrepreneurship.

We kicked off this year by planning our advocacy agenda with groups of interested members discussing labor force and talent attraction, more proactive attraction of investment and ways to foster a culture of giving. Let us know if you would like to contribute to any of these topics!

As every January, the AmCham Board held its semi-annual retreat for a strategic session about priorities for the coming year. Members had an opportunity to hear insights about the future of airBaltic from its CEO Martin Gauss, and explored the topic of risks and liabilities of board members presented by experts of Eversheds Sutherland Bitans and Marsh.

Check out our calendar below, join our upcoming events and help us promote Latvian-American business relationships!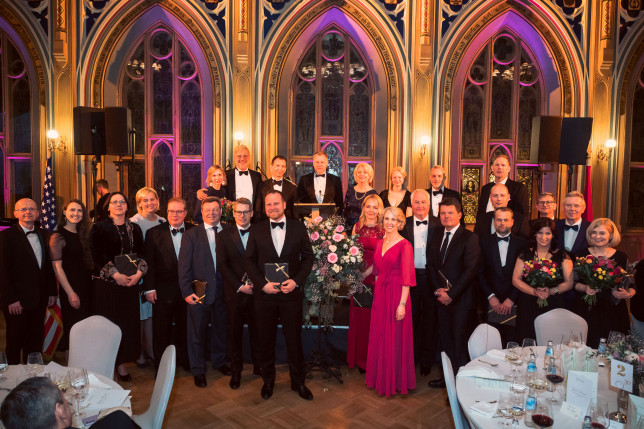 Apr 22, 2023 (18:00-23:55) - Celebrating 30 years in Latvia. Read more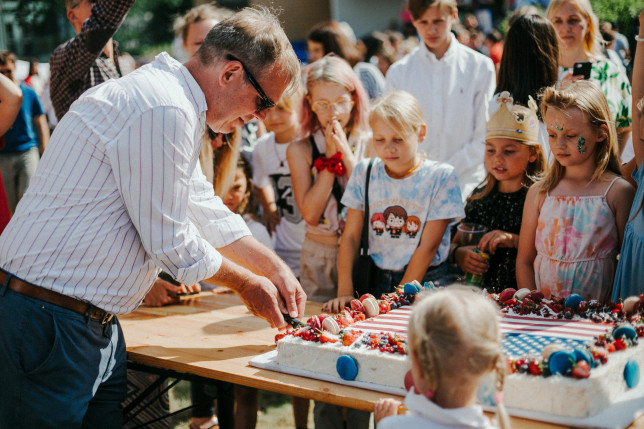 Jul 01, 2023 (13:00-16:00) - Over 500 people celebrate U.S. Independence Day at a family picnic. Read more
AmCham Board sets the course

On January 26, AmCham Board held its semi-annual retreat to discuss the strategic direction for 2023. AmCham will continue to focus on fostering trade and investment between Latvia and the U.S., improving the business and investment climate and enhancing Latvia's human capital. In addition, AmCham will continue to address tax policy for foreign investors in order to increase competitiveness and FDI. Sustainability, the digital economy, and greater social engagement will also be among the focus areas this year.
Read more

How board members can mitiagte risks of liability

On January 25, AmCham held its first Business After-Hours event of 2023 discussing board-member liability and limitations. Members gained insight into the intricacies of being a board member, including the role's responsibilities, challenges, and obligations from members and hosts of the event Agris Bitāns, Senior Partner at Eversheds Sutherland Bitāns, and Thomas Marcadet, Senior Vice-President at Marsh. Read more

AmCham bids farewell to Ambassador Carwile

On January 17th, John L. Carwile, U.S. Ambassador to Latvia, held a farewell breakfast for the AmCham board and Corporate Contributing members, who expressed great appreciation for his partnership over the past three years. They wished Mr. Carwile all the best in his future endeavors, and presented the Ambassador with a certificate of Lifelong Honorary Membership. Read more

What does the future hold for airBaltic?

On January 13, Martin Gauss, President and CEO of airBaltic, met with AmCham members and guests to share his insights about the future of airBaltic including issuing an IPO in 2024. airBaltic recently announced the addition of SpaceX's "Starlink" internet connectivity system into the entire Airbus A220-300 fleet. To implement it, the company works on the required certification approval with the installation planned for later this year. Read more
Abbott joins AmCham

Abbott, a global healthcare company, dedicated to improving people's health at all ages and stages of life has recently joined the Chamber as a Corporate Contributing member. For more than 130 years, Abbott has been creating products and technologies that address some of the world's most pressing health problems. Today, its portfolio includes diagnostics, medical devices, medicines and nutrition products. We warmly welcome Abbott to the AmCham community! Read more
Setting priorities for the development of human capital

On January 10, the AmCham Labor Force work group members gathered for their first meeting in 2023 to set priorities and brainstorm activities in the area of human capital development. Among the topics discussed were employment policy, talent attraction, life-long learning, STEM, and quality of education. Read more

Session on investment attraction

On January 13, AmCham hosted a brainstorming session to discuss cross-sectoral perspectives on what can be done to improve Latvia's image as an attractive FDI destination, along with awareness raising about FDI as a source for jobs, growth, knowledge transfer, and tax revenues. Guntars Krols, Partner of Strategy and Transactions at EY, moderated the session giving a short overview of the EY European Attractiveness Study. Read more

Ways to foster a culture of giving

On January 26, AmCham held an online discussion on fostering a culture of philanthropy for a greater social impact. Joining were two experts Konrad Siwinski, Representative of Social Impact Alliance for CEE and Janis Taukacs, Partner at Sorainen who explained the current tax policy with regard to donations and listed some of the key barriers to greater social engagement of companies. Read more
Dynatech lights up the community: aid charities and "Dynaspark" Party

Dynatech, the innovative tech company, spread holiday cheer in a big way at the end of 2022 by supporting two special causes: children and pets in need. The first initiative was a donation drive to gather food, toys, and other essentials for homeless pets at the local animal shelter "Ausma" and the company also brought in some holiday magic and gifted presents to children in need in Balvi. To celebrate accomplishments and the festive season, Dynatech threw a spectacular "Dynaspark" party, attended by a crowd of 700 people. Read more

Accenture, Swedbank and PwC top companies ensuring equal pay

Figure Baltic Advisory recently released data showing which companies lead the way with equal pay. We are thrilled to announce that Accenture and Swedbank are among the top in the large enterprise category, and PricewaterhouseCoopers is listed in the category of small and medium enterprises. Read more

Fulfill a child's dream

At the end of 2022, with the support of Roche Latvija, the Children's Hospital Foundation launched a new initiative on their website, which contains a section titled "Fulfill a child's dream". The initiative aims to involve individuals as well as the community in supporting chronically ill patients of the Children's Clinical University Hospital by making their dreams come true. The website includes information on how to donate and get involved in the realization of a chronically ill child's dream, as well as other ways to help this patient population. Read more

Ellex supports the art project "The Story of a Painting"

Ellex in Latvia welcomes its sixth year supporting the art project "The Story of a Painting" created in cooperation with the Latvian National Museum of Art (LNMM). This year's project featured a video series of 8 interviews, which were created as an addition to the future LNMM exhibition "Demolition of the wall. Latvian Art 1985–1991". The exhibition will be open from February 3 until January 12, 2025, at LNMM. The project depicts the processes of Latvian contemporary art during that period of socio-political changes. Read more

AmChams in Europe Celebrates its 60th Anniversary

In 2023, AmChams in Europe (ACE) celebrates its 60th Anniversary. Established in 1963, ACE serves as the umbrella organization for 46 AmChams from 44 countries throughout Europe and Eurasia. As a bilateral voice of American and European companies, ACE works to communicate the importance of the transatlantic economy in both Europe and the United States. Read more

Join our health insurance program

Are you interested in joining our health insurance program yourself or with your team? If you haven't arranged it yet, we're offering you to join the combined list of AmCham staff, small member companies and individual members. To find out more and join the program, please contact Ieva Melngaile at amcham@amcham.lv. Read more

Financing and risk-sharing solutions in Ukraines' reconstruction

Ukraine's post-war recovery and reconstruction needs are expected to be extremely high – estimated at about USD 349 billion. These funds will be needed to restore public services, repair damaged infrastructure, and sustain economic activity through investments. The Ministry of Finance invited all interested companies to a workshop "International Financial Institutions' Financing and Risk-Sharing Solutions in Ukraine's reconstruction" on February 8 at 14:30 aimed at educating the Latvian private sector about the International Financial Institutions – IBRD, IFC, MIGA, EBRD, EIB, NIB, CEB and upcoming reconstruction project pipeline in Ukraine. Please register HERE by February 6! Read more
PwC's Digital Academy Latvia offers 15% discount on their webinar cycle held in 3 modules: January 24, February 23 and March 23. Read more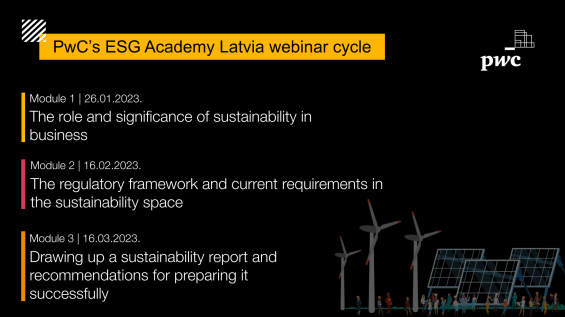 PwC's ESG Academy Latvia offers 15% discount on their webinar cycle held in 3 modules: January 26, February 16 and March 16. Read more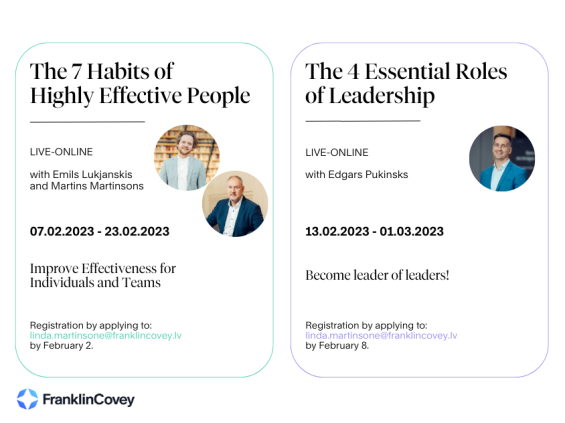 Two effective trainings from FranklinCovey Latvia with 15% discount for AmCham members: 7 Habits of Highly Effective People & The 4 Essential Roles of Leadership. Read more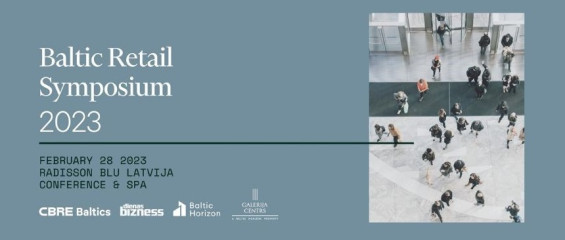 AmCham members have an opportunity to join the Baltic Retail Symposium on February 28 with 15% discount. Read more

Hotel Neiburgs offers its rooms for a special celebration. Read more
Follow us on
Member of the AmCham network | © American Chamber of Commerce in Latvia 2023