Geographically Challenged Team wins Best Chili 2015
Sep 22, 2015
Restaurant ZOSTE, Elizabetes 85a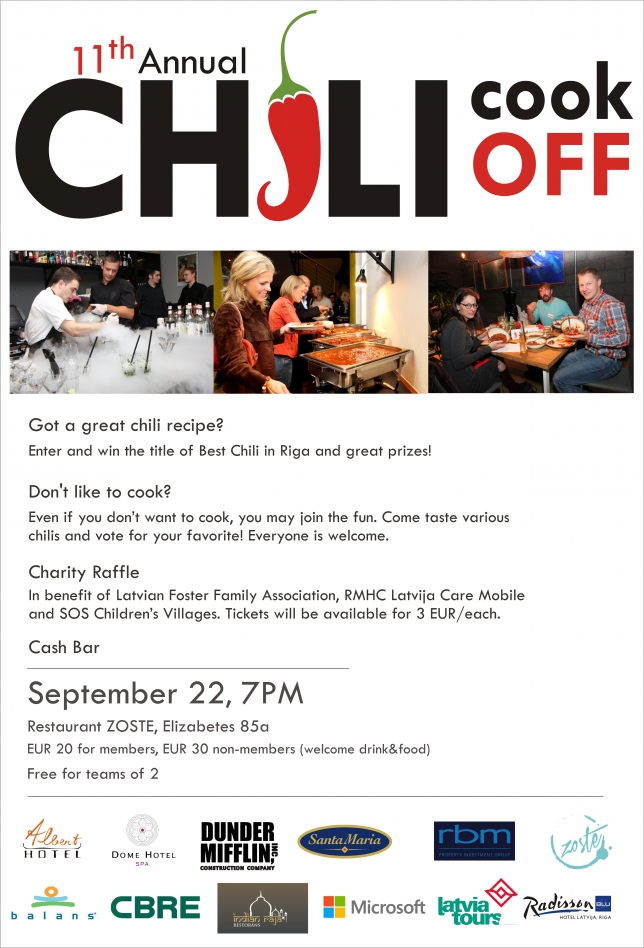 The Geographically Challenged Team, represented by Ieva and Steve Hertel made their Kabul Best Chili a winner at the 11th Annual Chili Cook-Off on September 22 at the restaurant Zoste.
The Geographically Challenged Team received the title Best Chili Riga 2015 and a special Chili Pepper Award. In addition, they were awarded prizes from restaurant Zoste and Santa Maria.
2nd place was awarded to the Rajendrasingh Gopalsingh Team for their Chicken Kolhapuri Chili. 3rd place went to the Riga Business School Team represented by Justin Bancroft with Vegetarian Chile Ole Chili.
The Albert Hotel team made up of Gints Martinsons and Jānis Krūmiņš won People's Choice Award for their Albert's Favorite Chili.
Winners received generous prizes from Albert Hotel, Dome Hotel & SPA, Radisson Blu Hotel Latvija, Zoste and Santa Maria. Dunder Mifflin was the main supporter of the event.
The jury consisted of expert chili tasters and chefs: Karlis Roberts Celms, Chef and Owner of the restaurant Zoste; Lyn Debevoise, Chief of the Political/Economic Section of the U.S. Embassy; Viesturs John Drupa, last year's winner and Elmars Tannis, Chef and Owner of several restaurants. Judging was done blindly by evaluating each chili by aroma, appearance, taste and aftertaste.
The Annual Chili Cook-Off is a traditional autumn event where AmCham members and friends compete for the Best Chili in Riga award.

9 teams participated in this year's Cook-Off including:
Albert Hotel Team: Gints Martinsons and Jānis Krūmiņš with Albert's Favorite Chili
CBRE Team: Santa Rozenkopfa and Iveta Valtere with Starter Before Asteroid Chili
Dome Hotel Team: Jānis Pinnis and Sergejs Siporovs with Chili Le Dome
Fortune Cat Team: Ingrīda Kariņa-Bērziņa and Kristīne Patmalniece with Maneki-Neko Chili
Geographically Challenged Team: Ieva and Steve Hertel with Kabula Best Chili
Lett Hot Chili Team: Vladis and Ilona with Lett Hot Meat-Off Chili
Rajendrasingh Gopalsingh Team: Rathul Patil with Chicken Kolhapuri Chili
Red Hot Chili Peppers Team: Mike and Irene Webb with Chili Nirvana
Riga Business School Team: Justin Bancroft with Vegetarian Chile Ole Chili
In addition to the chili contest, 600 EUR were raised in the charity raffle in benefit of the Latvian Foster Family Association, RMHC Latvija Care Mobile and SOS Children's Villages Latvia - organizations striving to promote healthy development of children and a family-based care for children without biological parents. The charity raffle was supported by Albert Hotel, Balans Inernational Wellness Center, CBRE, Indian Raja, Latvia Tours, Microsoft Latvia, Radisson Blu Hotel Latvija and R.B. Management.
< Back to Events

Being part of AmCham community brings valuable networking opportunities in different business areas as well as informal connections within Business After Hours.
Janis Zigurs, Business Manager Baltics & Iceland at Kenvue