Strengthening the Baltic Cooperation
Feb 09, 2017 - Feb 10, 2017
Riga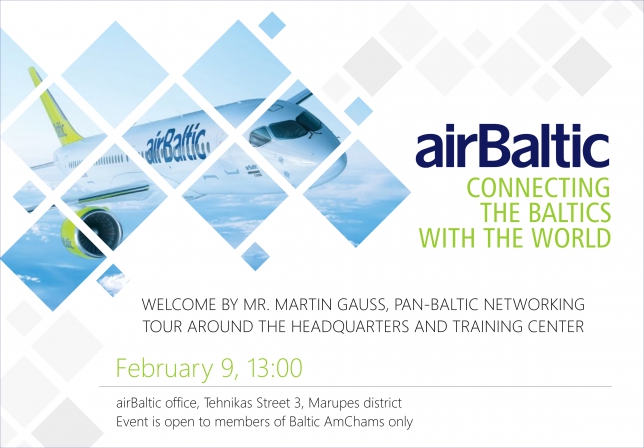 On February 9-10 AmCham Latvia hosted the second Pan-Baltic Meeting of AmChams in Riga. The first meeting took place in Tallinn, Estonia in May 31 - June 1, 2016 and was well attended by the Latvian delegation.
More than 50 participants visited airBaltic headquarters and training center on February 9. Attendees had an opportunity to learn more about the company over the presentation of the Chairman of the Board of airBaltic Mr. Martin Gauss and enjoy Pan-Baltic networking in the training center. Afterwards our neighbor AmChams had an opportunity to visit the largest 3D printing service provider in Baltics Baltic3D.eu and learn more about the technology and the future of 3D printing. The first day of Pan-Baltic event was closed with a reception at the residence of the U.S. Ambassador Nancy Bikoff-Pettit that gathered more than 60 guests - members and friends of AmCham Latvia and Estonia and guests of the Ambassador.
On February 10, a small group of the Estonian delegation and AmCham Latvia members attended an exclusive seminar organized by two of our members - Microsoft Latvia and Go Beyond in cooperation with employer branding company ERDA. Focusing on how to attract and retain the future talent, companies shared their experience in tackling the challenges labor market is facing.
< Back to Events
Being part of AmCham is a great way to maintain business contacts with entrepreneurs and professionals.
Normunds Bergs, Chief Executive Officer, SAF Tehnika