2016 SelectUSA Summit
Jun 19, 2016 - Jun 21, 2016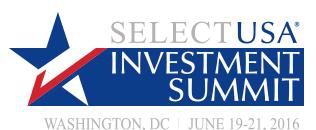 The U.S. Department of Commerce hosted the third SelectUSA Investment Summit on June 19-21, 2016 at the Washington Hilton in Washington, DC.

President Barack Obama gave the keynote address at the 2016 SelectUSA Investment Summit on June 20, 2016. His remarks are available here.
This year's Summit theme was "The Innovation Advantage" and showcased investment opportunities from every corner of the United States for global investors.
The SelectUSA Investment Summit, the initiative's showcase event, is the premier venue for international investors of all sizes to find the right place, with the people, resources, and market they need to be successful. At the last Summit, investors from over 70 foreign markets and economic development representatives from all 50 U.S. states joined President Obama, six Cabinet Secretaries, three Governors, and dozens of leading CEOs from major international firms and SMEs to learn more about the U.S. investment climate and opportunities for investment.
< Back to Events
Being part of AmCham is a great way to maintain business contacts with entrepreneurs and professionals.
Normunds Bergs, Chief Executive Officer, SAF Tehnika