Leadership driven by purpose
Sep 17, 2019
from 09:00 till 17:00
Radisson Hotel Old Town Riga, Z.A. Meierovica Boulevard 10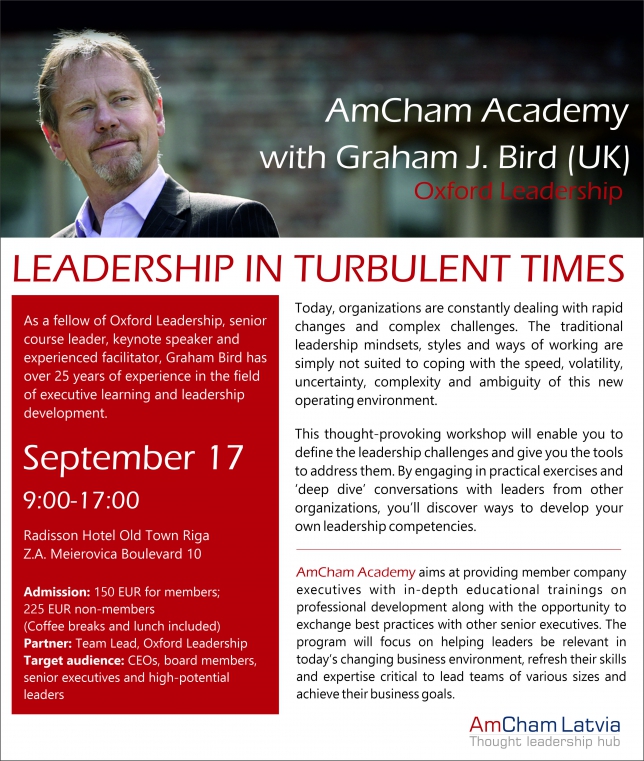 Graham Bird (UK), Fellow of Oxford Leadership provided a full day training session "Leadership in turbulent times" at the very first AmCham Academy workshop. The AmCham Academy aims at helping leaders stay relevant in today's changing business environment, refresh their skills and expertise critical to lead teams of various sizes and achieve their business goals.
By taking part in this thought-provoking workshop, members had an opportunity to define their leadership challenges, learn more about the latest thinking in leadership development and engage in practical exercises and 'deep dive' conversations with leaders from other organizations as well as find out ways to develop their leadership competencies. 
Watch a short introductory video by Graham J. Bird:
 
The event was co-hosted by Team Lead and Oxford Leadership and supported by Radisson Hotel Old Town Riga.
About Speaker

Graham J. Bird works as a leadership consultant and executive coach. For the last 15 years, he has worked exclusively with Oxford Leadership, a bespoke leadership consultancy based in the UK. Oxford Leadership works with some of the largest organizations on the planet developing their leaders to steer their organizations through turbulent times. 
Graham will share some insights from his work with thousands of leaders across the globe and the recent results of "Defining Leadership 4.0: Living Research Project" on principles of future leadership. Graham has recently delivered leadership and team development programs to customers such as BASF, Akzo Nobel, Metro, SEB Bank, Roxtec and Telefónica O2, Teito, Lufthansa, Ferrovial, Novartis, Vedior, Pepsico and Damen Shipyards Group. He is also involved in delivering Senior Leadership Programs at the Nyenrode Business University in the Netherlands.
Graham is a certified Master Practitioner in Neuro-Linguistic Programming, holds a Diploma in Business Coaching, has an advanced certificate in Executive Coaching, and also holds an Advanced CIPD Certificate in Psychology for Trainers. He also holds a post-graduate diploma in Leadership and Change, awarded by the University of Exeter Business School.
< Back to Events

We re-affirm our commitment to the values that AmCham stands for and that we share.
Kārlis Danēvičs, Board member, Head of Credits and Risk at SEB Banka