Members get ready for GDPR
Nov 16, 2017
from 11:30 till 13:30
Radisson Blu Elizabete Hotel, Elizabetes street 73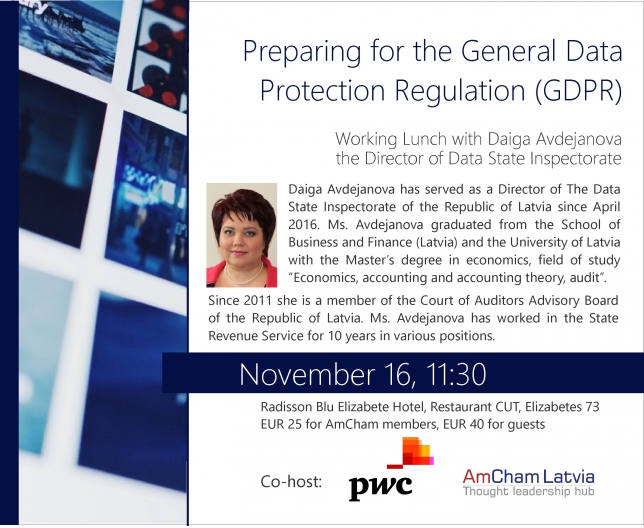 On November 16 AmCham held its Working Lunch on preparing for the General Data Protection Regulation (GDPR). The guest speaker Lauris Linabergs, Head of Division of the European Union and International Cooperation Matters at the Data State Inspectorate (DSI) presented the aims and values of the organization, its structure, and challenges they face with the implementation of the GDPR.
The first Working Lunch was attended by more than 40 members and friends, who were actively participating in the discussion with questions concerning their business. Members were interested in the enforcement of the new regulation and the role of DSI, the readiness of state institutions and coordination between them. Members came up with an idea to work on guidelines for controllers, which DSI should introduce to make the process more effective and understandable for everyone.
This is a complex topic and there are still many unresolved issues and unanswered questions, therefore we would like to ask our members to fill in a short survey so that we can coordinate further work on this topical issue. Please fill in the survey here.
ABOUT THE SPEAKER
Lauris Linabergs is a Data State Inspectorate employee since March 2014. Lauris first tasks were related to data processing notification procedure (evaluation of notification applications). Since 2015 Lauris was also involved in devising answers to questions related to the interpretation of data protection terms and application of Personal data protection law, later on, also drafting of opinions in regards to legal acts and proposals.
Lauris was appointed the Head of Division of the European Union and International Cooperation Matters in 2017, as such he has attended events organized by 29 Article Working party and other International events. In 2017 Lauris took part in a Schengen evaluation in a role of an expert.
AGENDA:
11.30 Registration and Coffee
12.00 -12.30 Working Lunch
12.30 -13.00 Q&A session
13.00-13.30 Networking
Thank you to the co-host of the event PricewaterhouseCoopers!
< Back to Events
I look forward to promoting stronger U.S.-Latvia ties and working with AmCham members to ensure Latvia is a trusted destination for international business.
John Tully, Chairman of the Board of MikroTik