What does the future hold for airBaltic?
Jan 13
from 12:00 till 14:00
Hilton Garden Inn Riga Old Town, Grecinieku 25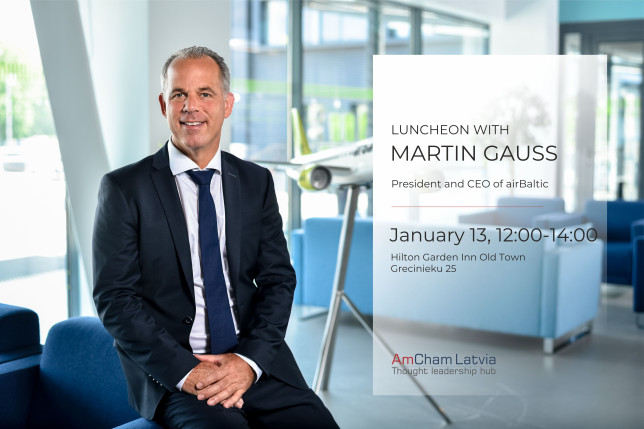 On January 13, On January 13th, at the Hilton Garden Inn Riga Old Town, Martin Gauss, President and CEO of airBaltic, met with AmCham members and guests to share his insights about the future of airBaltic.

Mr. Gauss highlighted airBaltic's latest development - the addition of SpaceX's "Starlink" internet connectivity system into the entire Airbus A220-300 fleet. Upon entering the plane, every passenger will soon benefit from complementary, in-flight high-speed internet access during all airBaltic flights without hassles or login pages. The company works on the required STC (supplemental type certification) approval and is expected to begin installing the product on the entire airBaltic Airbus A220-300 fleet later this year.

AirBaltic connects the Baltic region with over 70 destinations throughout Europe, the Middle East, and the CIS. Over the last 27 years, airBaltic has developed as a strong, profitable, and internationally respected airline, which employs more than 2100 employees. AirBaltic is by far the best-known international brand in Latvia responsible for more than 2.5% of the Latvian GDP. AirBaltic operates 39 Airbus A220-300 aircraft and has received numerous international awards for excellence and innovative services. Skytrax has awarded the Latvian airline a five–star COVID-19 safety rating along with the "Best Airline in Eastern Europe" acknowledgment in 2022.
Established in 1995, airBaltic is a joint stock company. The airline's primary shareholder is the Latvian state, which holds 97.96% of the stock, while the remaining 2.04% is divided among other shareholders. In 2024 airBaltic plans to issue an IPO on the Nasdaq Riga stock exchange.
< Back to Events
I look forward to promoting stronger U.S.-Latvia ties and working with AmCham members to ensure Latvia is a trusted destination for international business.
John Tully, Chairman of the Board of MikroTik