Le Dome team wins the Best Chili 2017
Sep 07, 2017
from 19:00 till 21:30
Tex-Mex Republic, Dzirnavu Street 59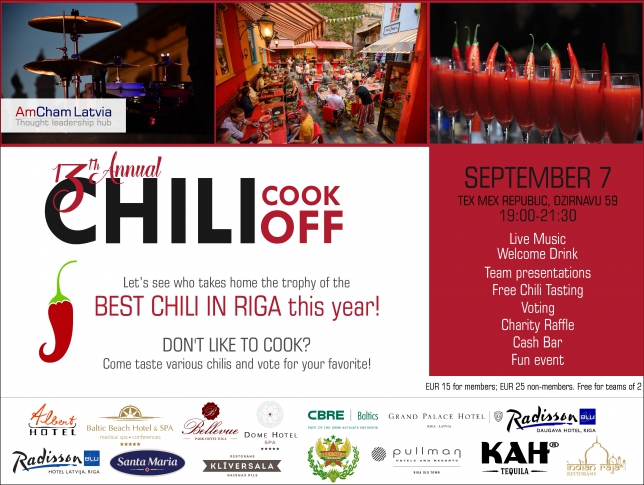 The Restaurant Le Dome team, represented by Sergejs Šiporovs made their Le Dome Chili a winner at the 13th Annual Chili Cook-Off hosted by the American Chamber of Commerce in Latvia (AmCham) on September 7 at Tex-Mex Republic Restaurant.
The Restaurant Le Dome team received the title Best Chili Riga 2017 and a special Chili Pepper Award. In addition, they were awarded a prize from Grand Palace Hotel.
2nd place was awarded to the Tex-Mex Republic team for their Chili con carne. 3rd place went to the Riga Toastmasters Club team with Hot off the press Chili. Blu Chili`s team from Radisson Blu Hotel Latvija with their Hot Temper Chili won People's Choice Award this year.
The event was supported with generous prizes from KAH Tequila, Grand Palace Hotel, Indian Raja, Restaurant Kliversala, Radisson Blu Hotel Latvija, Amber Distribution Latvia, Santa Maria, Albert Hotel, CBRE Baltics, Dome Hotel & SPA, Baltic Beach Hotel, Bellevue Park Hotel, Pullman Riga Old Town Hotel, Radisson Blu Hotel Daugava, and Tex Mex Republic.
This year's jury:
- Paul Poletes, Deputy Chief of Mission, U.S. Embassy
- Ilze Jurkāne, Culinary expert
- Dainis Vītols, Chief of Tex Mex Republic Restaurant
- Dans Vorslavs, Best Chili in Riga 2016 Winner, Chief of Albert Hotel
- Arnis Kākulis, AmCham Board member
Judging was done blindly by evaluating each chili by aroma, appearance, taste and aftertaste.
The Annual Chili Cook-Off is a traditional autumn event where AmCham members and friends compete for the Best Chili in Riga award.
8 teams participated in this year's Cook-Off including:
- Blu Chili's Team: Raimonds & Alexandre from Radisson Blu Hotel Latvija with Hot Temper Chili
- Chilling at the POOLman Team: Gints Martinsons & Sergejs Jaramišjans from Pullman Riga Old Town Hotel with Equuschillpill
- Richard representing Apply IT Team: Richard Hunter from Apply with Richards AI Real American Chili - "Putting some south in ya mouth"
- Riga Toastmasters Club Team: Dāvis Gold & Laurel Freyja with Hot off the press Chili
- TexMex Republic Team with Chili con carne
- Restaurant Le Dome Team: Sergejs Šiporovs & team from Dome Hotel & SPA with Le Dome Chili
- Riga Business School Team: Justin Bancroft & team with Carne Adovada Chili
- Geographically Challenged Team: Steve Hertel & Ieva Hertel with Novārds Chili
In addition to the chili contest, 700 EUR were raised in the charity raffle in benefit of the Latvian Foster Family Association, SOS Children's Villages and RMHC Latvija Mobile Health Care Center - organizations striving to promote healthy development of children and a family-based care for children without biological parents.
< Back to Events

Roche Latvija is pleased to be part of the AmCham community.
Rauls Vēliņš, General Manager, Roche Latvija