Annual General Meeting
Mar 12
from 19:00 till 21:00
Hotel Bergs, Elizabetes 83/84
AmCham will hold its Annual General Meeting on March 12 at 7 pm at Hotel Bergs during which we will review the past year's activities and set strategic direction for the next year.
Agenda
Opening remarks by John Carwile, U.S. Ambassador
Annual performance review by AmCham President and Vice Presidents
Financial Report 2019
Election of new Board members
Election of the Auditor
Candidates: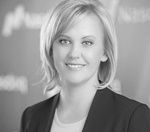 Liene Dubava
Member of the Management Board, Nasdaq Riga,
Head of Issuer Services, Nasdaq Baltic
Liene started her career at Nasdaq in 2004, already having 10 years' experience in the financial sector. In 2007 she was elected as a Member of the Management Board of Nasdaq Riga and since April 2012 she is the Head of Nasdaq Baltic Issuer Services.

According to Liene, "It has been a very exciting journey during last two years here at AmCham. Good corporate governance, transparency and sustainability have been relevant topics also for capital markets which corresponds to core values of AmCham. I have no doubts about the positive impact AmCham brings to the business culture here in Latvia. I am looking forward to continue to support AmCham's initiatives, by being an active Board member and devoting my time to improve the quality of business environment and corporate governance in Latvia."
George Miu
Cluster General Manager, Radisson Blu Elizabete Hotel and Radisson Blu Ridzene Hotel

George Miu, originally from Romania, started his career in hospitality 26 years ago working for prestigious hotels in Bucharest such as Sofitel Bucharest Hotel, Athenee Palace Hilton Hotel, JW Marriott Bucharest Grand Hotel and in various supervisory and management positions in the rooms department.

George said: "It's been such an rewarding experience to be part of the AmCham board for the last two years, participating firsthand in the efforts put in and witnessing the impact that this chamber has on the business community in Riga. AmCham advocacies, programs and events bring together the most important stakeholders of the social, political and business environment, creating the best venues for sharing common hurdles, successes, business priorities, best practices and last but not least networking. I am looking forward to continue with the board and contribute as much as I can in maintaining AmCham as the business association of choice in Riga!"
Renāte Strazdiņa, Dr.sc.ing.
Country Manager, Microsoft Baltics


Renāte has more than 20 years of experience in IT industry and management consulting. Before joining Microsoft in 2016 she was with EY for 9 years in various positions, including as an Executive Director at Management Advisory Department, while serving as the Head of Public Sector in Latvia and the role of Head of Education Sector in South-Eastern Europe.

Accroding to Renate, "AmCham plays a key role in driving the change towards a sustainable and transparent business environment in Latvia. I value AmCham's work in promoting awareness of 21st century skills for existing and future workforce, and of the opportunities innovations and technologies offer to the economic development of the country. AmCham gives the chance to be part of a collective voice, to be a member sharing common interests and values and acting on them".
Signe Vēliņa
Government Affairs and Market Access Manager, Johnson & Johnson
For the last 14 years Signe has worked in pharmaceutical industry in GSK and Johnson & Johnson representation in Latvia as Government Affairs and Market Access Manager. She has also served on the board of the Association of International Innovative Pharmaceuticals Producers and is currently member of the Board of the Association of Biopharmaceutical Drug Manufacturers in Latvia. She is a member of FICIL Healthcare working group and AmCham Healthcare work group.
"I highly appreciate the initiatives of AmCham members in the Healthcare working group driving towards better and sustainable healthcare in Latvia. I would be delighted to join the AmCham board and contribute even more to the improvement of the healthcare in Latvia which is of utmost importance not only for citizens and healthcare workers, but also for every employer in order to ensure healthy work force as well as to improve the overall business environment for healthcare companies in Latvia."
Call for candidates for the Board!
Four vacancies are up for election for a two-year term (2020-2022). Key responsibilities of a Board member include overseeing the activities and setting strategic direction of the Chamber. It is also an opportunity to initiate positive change in the business environment. If you would like to put forward your candidacy, please send in self-nomination consisting of a short bio, photo and a brief motivation letter.
Our By-laws state that up to two Individual and/or Non-Profit members can serve on the Board of Directors simultaneously and since both seats are currently occupied, applications will be accepted from Corporate Contributing, Corporate and Small Business level members. Please note that you may nominate yourself until the day of AGM including from the floor.
If you are unable to attend the AGM, we encourage you to assign a
proxy
to another member at:
amcham@amcham.lv
. It should be received by March 11 COB.
AGM is open to AmCham members and admission is complimentary. Please sign up below.
< Back to Events
AmCham is a great place for networking, exchanging ideas and generating new business directions.