The US market for organic products, food and technology
Mar 25, 2019
from 15:00 till 17:00
LTRK, Kr. Valdemara 35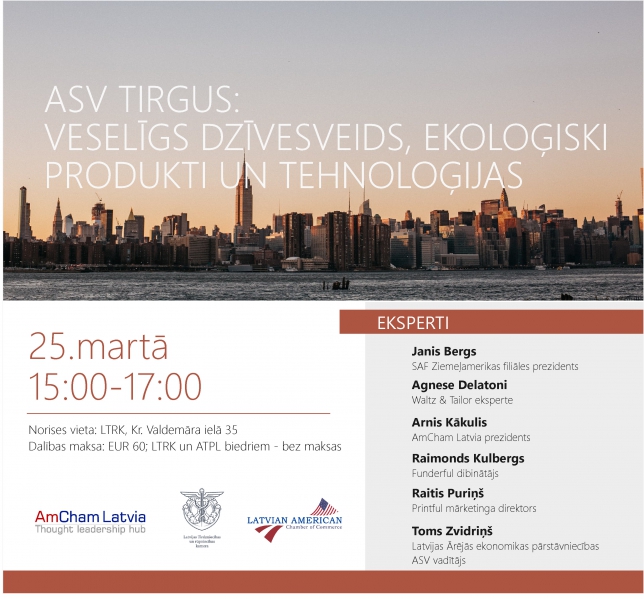 AmCham Latvia in cooperation with the Latvian Chamber of Commerce and Industry (LCCI) and Latvian American Chamber of Commerce (LatCham) organized the 7th Seminar on the U.S. Market "Healthy living, food and technologies" on March 25 at LCCI, Kr.Valdemara 35. These seminars are a part of our Gateway to the USA program. 
Speakers: 
- Jānis Bergs, SAF North America, President
- Agnese Delatoni, Waltz&Tailor, expert
- Arnis Kākulis, AmCham president
- Raimonds Kulbergs, Funderful founder
- Raitis Puriņš, Printful, Director of Marketing
- Toms Zvidrins, Head of the Representative Office in the USA
Watch the video of the event below:

Gateway to the USA is a joint business network platform aimed at developing and expanding connections between businesses in Latvia and business representatives in the U.S. The program is tailored to the needs of individual companies, members of AmCham, Latcham and LCCI.

Amerikas Tirdzniecības palātas Latvijā (AmCham), Latvijas Tirdzniecības un rūpniecības kameras (LTRK) un Latvijas-Amerikas Tirdzniecības kamera rīkoja semināru 25.martā par ASV tirgu programmas "Gateway to the USA" ietvaros: ASV tirgus: veselīgs dzīvesveids, ekoloģiski produkti un tehnoloģijas. 
Semināra tika pārrunāts kā labāk sagatavoties "
Spotlight Latvia
" konferencei 2.maijā Denverā, ASV un atbilstoši prezentēt savus produktus un pakalpojumus ASV tirgū."Spotlight Latvia" piedāvās iespēju Latvijas uzņēmumiem veidot kontaktus ar Amerikas uzņēmumiem līdzīgās biznesa jomās, lai attīstītu sadarbību un veidotu jaunas partnerības.
Semināra eksperti:
- Jānis Bergs, SAF Ziemeļamerikas filiāles prezidents
- Agnese Delatoni, Waltz&Tailor eksperte 
- Arnis Kākulis, AmCham prezidents
- Raimonds Kulbergs, Funderful dibinātājs
- Raitis Puriņš, Printful mārketinga direktors
- Toms Zvidriņš, Latvijas Ārējās ekonomiskās pārstāvniecības ASV vadītājs 
Lektori piedāvāja ieskatu dažādos ASV biznesa vides aspektos, dalījās pieredzē un veiksmes stāstos, kā arī atspēkoja visbiežāk izplatītos mītus un stereotipus. 
"Gateway to the USA" programmas semināru mērķis ir informēt uzņēmumus par aktuālo un noderīgo saistībā ar tirdzniecību starp Latviju un ASV, kā arī sniegt Latvijas uzņēmējiem vērtīgu informāciju par ASV tirgu. Šajos semināros uzstājas gan ministriju un vēstniecību pārstāvji, gan eksperti un arī paši uzņēmēji, kas jau darbojas ASV tirgū un ir gatavi dalīties savā pieredzē.
Semināra darba valoda: latviešu  
< Back to Events

Together with AmCham we can develop our networking not only in the local market with local companies, but also reach out to good partners far away from Latvia.
Ugis Grigorjevs, Head of Sales at Nordwoc