Latvian team wins FIBA Basketball World Cup Test Match
Aug 16
from 17:30 till 21:00
Arena "Riga",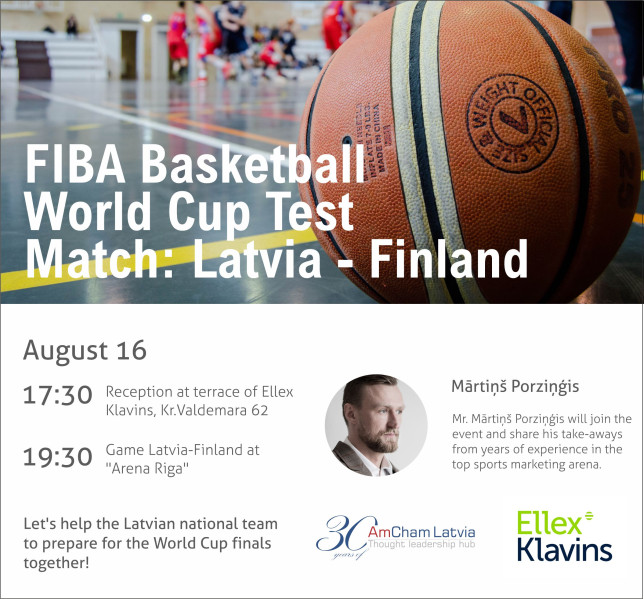 On August 16, members gathered for AmCham's first Basketball game night - FIBA Basketball World Cup Test Match: Latvia - Finland. Thanks to Ellex Klavins the event was kicked off at their terrace prior to the game with participation of Mārtiņš Porziņģis who shared his take-aways from years of experience in the top sports marketing arena.
This was the last game for team Latvia before they leave for the Far East in order to acclimatize in time at the venue of the World Cup.

The game with the Finnish national team (24th place in the FIBA ranking table) was the last test of readiness. The biggest star Kristaps Porzingis announced that a foot injury will stop him from playing in the test match. Latvian team relied on the brothers Davis and Dairis Bertans who are prominent names along with European-based Rodions Kurucs, Mareks Mejeris, Janis Timma and Rolands Smits to survive Group H.
The Latvian team convincingly defeated the Finnish national team with a score 94:57 in the last test game at home before the World Cup final tournament. The Latvians remained undefeated in all four test matches played, strengthening their confidence before going to Asia.

The Finnish team participated in the final tournament of the World Cup for the second time after 2014. The national teams of Latvia and Finland have played each other 13 times since 1992. The Latvians had the advantage of 10 victories, but the last matches were unsuccessful.
Powered by:
< Back to Events

AmCham is a place to meet representatives of other industries and understand the business environment.
Signe Velina, Market Access Manager Latvia of Johnson & Johnson