Board approves targets for 2022
Jan 20, 2022
from 08:45 till 10:30
Online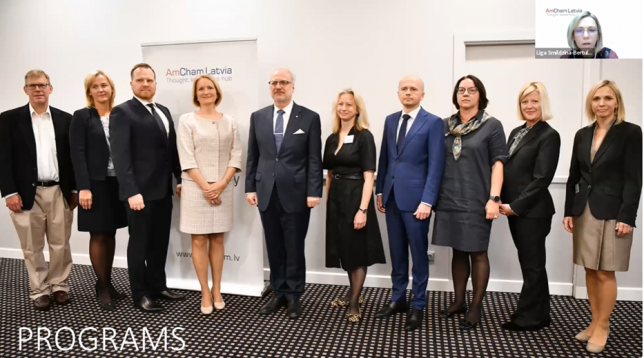 On January 20, AmCham Board and Staff came together for a semi-annual strategic meeting to decide upon Chamber's direction and priorities for 2022.
Fostering trade and investment between Latvia and the U.S. and raising awareness of economic opportunities between Latvia and the U.S. by proactively promoting Latvia as a U.S. investment destination, support the Three Seas Initiative Summit in Riga, World Latvian Economic Forum, Spotlight Latvia, Latvian American Innovation Award and as well as knowledge in the Latvian business community on the U.S. market together with partners.
Improving the business and investment climate in Latvia with a focus on monitoring the development of lobbying regulation in Latvia, updating tax legislation to ease tax burden for foreign investors, positioning Latvia as a tech investment destination as well as supporting economic recovery with a focus on sustainability, digital transition, and upskilling.
Getting prepared for the future of work with focus on raising awareness of Latvia as an international career destination and work to improve the experience of foreign workers in Latvia and following updates in the regulation of remote work and share best practices about remote work affecting the work environment.
Improving health outcomes of Latvia's society - continuing the work of the Healthcare work group to support the following pilot projects: sustainable healthcare financing model, Value-based healthcare approach, digital health strategy, legal framework for secondary use of health and social data as well as Latvia's healthcare policy improvements. The Health Data Summit will be continued based upon sufficient engagement from the other partners.
The Board meets twice a year outside its monthly meetings for a focused, strategic session to set the future direction and review the Chamber's performance.
< Back to Events
We joined AmCham as a community of shared values to expand our access to global competencies and to foster the quality of the health ecosystem.
Agrita Kiopa, Vice Rector for Science, Riga Stradins University