Mission modern working
Mar 30
from 18:30 till 21:00
Audeju street 15, Riga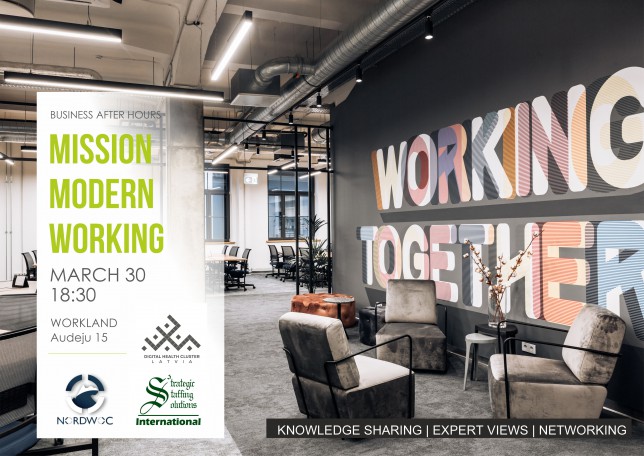 On March 30, members kicked-off spring season and enjoyed our 1st Business After Hours of 2022 kindly hosted by members Strategic Staffing Solutions International and Nordwoc in collaboration with the Digital Health Cluster Latvia at Workland.
Members who hosted the event had an opportunity to introduce with their companies:
Martins Vitols of Strategic Staffing Solutions International gave a presentation on "Trends in Recruiting in a new world after Covid". To view the presentation!
Ugis Griogorjevs of Nordwoc and Arturs Kaulakans of Cisco introduced with their companies both located at Workland offices.
Girts Polis, Marketer and Marketing mentor and moderator of the event spoke on "Innovations. Is it hard to adopt?".
Andre Nitzschmann of Digital Health Cluster Latvia touched upon "Connect. Create. Collaborate".
Three young ventures made their pitches:
Anita Ramka, Product Manager of Pitchpatterns.com at asya.ai
Rodion Zenevich, Industrial designer and Creator of knopknop.com
Sergejs Petrovs, Founder of rehabing.org
We are grateful to hosts Strategic Staffing Solutions International, Nordwoc and the Digital Health Cluster Latvia for the excellent program, presentations, pitches and refreshments they have prepared for AmCham members.
< Back to Events

Membership is an attestation that we belong to the modern Latvian business community.
Dace Silava-Tomsone, Managing Partner, COBALT