Young and ready to outperform
May 17, 2017
from 18:30 till 21:00
Microsoft Latvia office, Zala Street 1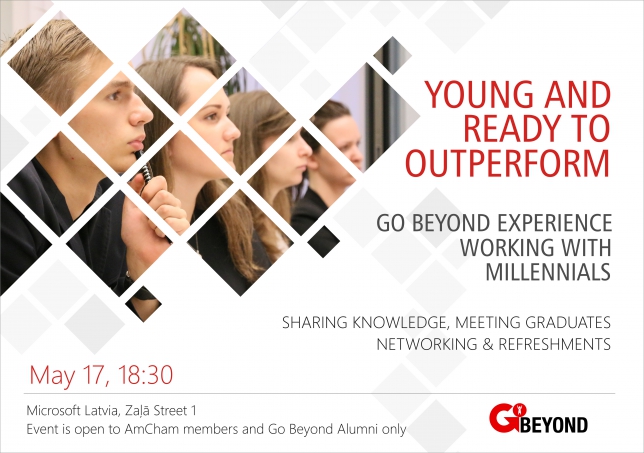 May's Business After Hours was hosted by Youth Development Program Go Beyond in cooperation with Microsoft Latvia.
How are young people motivated to go through a five-stage application process, work hard on team and social projects for ten months, attend lectures, mentoring and coaching sessions and abide by strict discipline? Go Beyond representatives and graduates shared their secrets behind the leadership program and how to attract and motivate young people.
About Go Beyond
Go Beyond is a youth development program created to empower young people to acquire leadership and professional skills in order to go beyond their limits. Go Beyond foundation was started in June, 2011 as a youth development program by five professionals with aspiring aims to improve leaderships skills among youth, increase their competitiveness in the labor market, encourage more successful integration in the entrepreneurial environment and improve the quality of informal education in Latvia.
The program works with young people aged 18 to 23 who willingly dedicate their time to personal development and are mature enough to dig into their values and beliefs, vocation and life balance, combining it with acquisition of new professional skills. The Go Beyond program lasts for 10 months and consists of three major steps: four day personal development seminar, involvement in a social team project and carrying out an individual project. Throughout the whole program Go Beyond helps to enrich each individual's experience by providing monthly individual coaching, group coaching and individual mentoring based on the different projects participants work on, monthly workshops, open guest lectures, meetings with Go Beyond board and informal activities.

About Microsoft Latvia and Go Beyond cooperation
Microsoft Latvia has supported the Go Beyond program and its activities since 2011. In 2016, as a joint initiative reverse mentoring project was lounched. Click here to learn more about the initiative.
Powered by:

< Back to Events

We re-affirm our commitment to the values that AmCham stands for and that we share.
Kārlis Danēvičs, Board member, Head of Credits and Risk at SEB Banka