Members explore bleisure travel
Feb 28, 2017
from 18:30 till 21:00
Restaurant Klīversala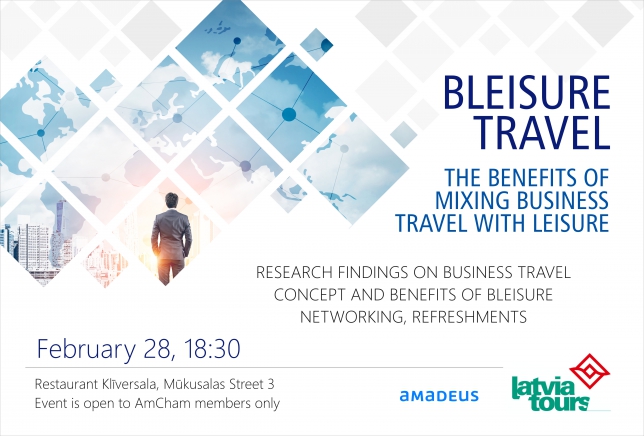 February's Business After Hours took place on February 28 and was hosted by Latvia Tours in cooperation with Amadeus Latvia. This evening was also a great example of member cooperation as the event took place in Klīversala, which is also a very active member of AmCham.
The event gathered AmCham members - representatives of tourism and hospitality industry, and others interested in the new business travel trend "Bleisure". Business travel takes a lot of our member's time, and the presentation by Latvia Tours gave some ideas on how to combine it with leisure activities and add it to companie's corporate culture or employee's benefits.
Bleisure travel has quickly become a buzzword signifying travelers that combine business trips with leisure. Studies show, however, that bleisure goes much deeper than just a casual trend. Latvia Tours and Amadeus will have a look at a few ways travelers and company managements can benefit from this lucrative trend.
About Latvia Tours
Latvia Tours is AmCham member since 2014. It is a full service travel agency, enabling its customers, be it corporations, travel partners, governments or private individuals to meet their varied and ever changing travelling needs. Latvia Tours works with its clients to help them select their travel destinations, organise optimal travel plans and handling at their destination, be it for leisure, business or for conference and congresses.
< Back to Events

AmCham is based on values and behaviors that enable its members to fulfill a common purpose - a sustainable and transparent business environment, and we are truly proud to be a part of this growing community.
Edgars Skvariks, Corporate Public Affairs Manager at Bayer